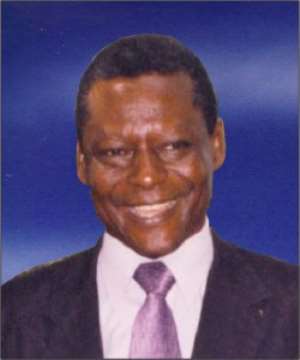 The New Patriotic Party (NPP) MP for Ga West, S. N. A Attoh went through a terrible ordeal for close to two hours when armed robbers stormed his Pokuasi residence on January 24, 2006. The MP said he had earlier seen suspiciously looking people lurking around his house days before the incident. He said on the day of the robbery, soon after the football match between Ghana and Nigeria at about 7.30 pm he had gone to buy medicine for one of his children who was ill. Mr Attoh said as soon as he opened the door, the armed robber quickly followed him inside and pointed guns at him and ordered him to lie down with one of them rounding up his wife and children forcing all of them to the living room to lie down. Sensing danger, he said he readily offered to give his three cars away to them but they declined the offer and marched him to his bedroom where they packed his Kente cloth, suits, shirts and unspecified amount of money into a waiting car.
The robbers also took away his television set, a DVD player, a VCR, two mobile phones, a fixed line handset and even his children's toys.
As an after thought the robbers went back into the bedroom and grabbed all his wife's jewelry, wax prints, sewn and unsewn ones and other dresses.
The MP recently bought a 'completely computerized' Jaguar, which cannot operate without its original key. The armed robbers deliberately demanded, as a way of punishment, to have the keys of the car as well as the keys of the rest of the cars packed in the house.
The armed robbers just took the keys and bolted leaving the MP stranded with his pool of cars but without keys to move or operate them.
Before he became an MP, Mr Attoh was the District Chief Executive (DCE) for the Ga District Assembly and is known to be a no nonsense person.
The Amasaman police confirmed the story and said investigations are ongoing.