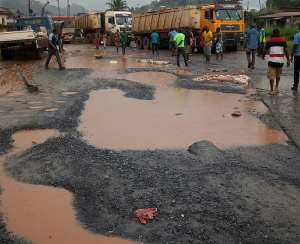 Tarkwa-Nsuaem main road
Leadership of the opposition, National Democratic Congress (NDC) in the Western Region has accused government of turning a blind eye to the plight of the citizenry by abandoning developmental projects initiated by the past government.
Below is the full statement released on May 14, 2018, and signed by Regional Communications Officer, Richard Kirk-Mensah:
PRESIDENT NANA ADDO'S GOVERNMENT IS CAUSING FINANCIAL LOSS TO THE STATE
It is often said that governance is a continuum. What has developed the foreign world is a strong policy that successive governments continue the developmental agenda of previous governments.
However, in Africa, the reverse is the case. Typically in Ghana which prides herself as a beacon of democracy in sub-Saharan Africa, president Akufo Addo has abandoned all the magnificent infrastructural projects which were initiated by the NDC government.
Unlike the Nana Addo's government, late Prof. Mills showed leadership and did something unique. When late Prof. Mills took over from his predecessor, Former President Kufuor, he continued and completed lots of projects including the gang of 4 roads and N1 highway that was started by the Kufour's government.
President Akuffo Addo, few months after he was sworn in, through the Chief Executive Officer of Cocoa Board in a letter dated May 30, 2017, gave a directive that halted all ongoing cocoa road projects.
Many engineers, social commentators and road users, in general, spoke against that directive that it would derail developmental processes.
The cocoa road projects which were being financed by the Cocoa Board of Ghana were initiated by the NDC under the stewardship of Former President John Dramani Mahama were to ease the burden of cocoa farmers and traders on the difficulties they encounter to bring foodstuffs to urban centers for sale and exports.
However, without recourse to the impediment of economic development to the nation, the NPP government took that harsh decision with a tag of doing value for money audit.
The following are some of the cocoa roads which were under construction that the Nana Addo government halted it:
Samreboi – Amoaku-Mumuni road
Mumuni-Prestea road
Nkrankwanta-Adabokrom road
Adobokrom – Kwadwo – Armah road
Amoaya – kwasikrom - Dadieso – Enchi road
Elluokrom, Oseikojokrom, Essem Dabiso, Adwoafua road
Debiso – Akatiso road
Debiso - Adobokrom road
Ellukrom – Ntonsue road
Ellukrom – Fosukrom road
Ahibenso - Bodi road
Juaboso town road
Benkyemajunction – Adwoafua
SefwiBoafo – Sankore road
Sankore – Abuom – Nakitey road
Sankore – Atekyem – Kokooso No 3
Atekyem – Asibirem – TanoDumase road
Anyinasi – Nyamebekyere – Asomasi – Mumuni Junction
Alatakrom – Sewum road
Enchi – Kordjor road
Susan - Motoso
Can anyone tell if the state of the following roads are the same as contractors left two solid years ago?
The state of these roads has worsened and government will use more money to reconstruct such roads because of the bad economic situation which has seen increase in every element in the construction sector. Under NDC, a kilometer of bituminous surface road which cost around $250,000 is now more than 400% of the cost.
Has the president who campaign to protect the public purse helped me and you by this bogus value for money audit and politically motivated bad decision?
Ghanaians welcomed that tag because impression was that most of the projects cost were inflated by the previous government.
Ordinarily, the value for money audit which should have lasted for a few weeks lasted for over two(2) years without any significant results
The government this week announced that they would begin the halted projects with another wasteful sod cutting ceremony in Jasikan in the newly created Oti region.
The NPP government has caused financial loss to the state by halting the road works.
Many of the works which were at various stages of completion have now deteriorated and government has no option than to use new resources to reconstruct the roads.
In the road construction sector, 95% of the roads are pre-financed by the contractors with the help of some commercial banks and financial institutions.
The projects are paid as projects progress when certificates are raised and certified by appropriate authorities. Some of the works were at various stages that payments should have been made on work done, but such works were left to deteriorate when the NPP government took that decision.
I don't fathom the rational behind that claim of value for money audit before payment is made by any claim in the construction sector because the sectorial engineers at site certify documents, it then goes to district or regional director of that sector, being highways, feeder or urban roads.
This is done with thorough valuation and measurement against bidding quantities. After the certificates leave the sector, it goes to district, regional or central(national) offices where Chief Executives and Coordinating Directors of the various MMDA's where it is strictly verified before appending of signatures by these office holders.
Depending on the scope of work, Regional Ministers and sector ministers sign such certificates before they go to various sectorial head offices before payments are effected, either by the road fund or the cocoa board through ministry of finance.
At all these stages, is the NPP government accusing personnel of compromising their stance or negligence of the basic duties of which they are paid with our taxes?
We all can attest to the collapse of many financial institutions as a result of government's refusal to pay road contractors what is due them after the projects have been pre financed by such financial institutions. It is believed government has spent over Gh18bn in the consolidation and restructuring of the banking sector of which lots of such banks wouldn't have been faced with such crunches if government had redeemed it commitment by paying for work done by contractors.
Though I can't quantify the amount lost that the abandoned works has caused the farmer and other road users through their inability to transport their produce to urban centres and ports for export, it is believed it will surely have a toll on the growth of national economy.
Another important area many don't talk about is the delay in payment claims by the contractors. In the road tender agreement, there is a clause that government is expected to make payments when contractors raise delay payment claims.
It is on record that some payments have delayed for close to 3 years. It is therefore estimated that government will waste money to redeem all delayed payments claims which in actual facts, could have been avoided if government had been proactive.
The Nana Addo government which campaigned with a promise to protect the public purse has proven to be the worst culprit of mismanagement of government resources by using state agencies to target businesses owned by its political opponents.
Richard Kirk-Mensah
(Western Region Communication Officer, NDC)