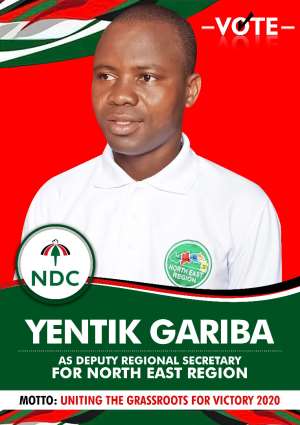 Thank you, Mr. Simon, for drawing my attention to the visit by the President of the Republic of Ghana to the Mamprugu Kingdom.
I must say this is a beautiful write up by no mean a person than a Deputy Secretary Hopeful like my humble self(NDC) of the NPP. Thanks, Mr. Simon once again for the beautiful lexicons used in your attempt to praise our President. Thank u!
You don't need to struggle to praise the president to the good people of this republic. U need not write theses or essays in order to convince confuse the listening public. I believe Ghanaians are lately becoming more discerning and cannot allow themselves to be confused. But as the saying goes, Salt, it is often said, does not praise itself. If the President of the very republic upon which we all exist and suffer deserves praise that praise should not becoming from within. It should be coming from independent bodies who are not responsible to the government. And you, for instance, is a government appendage. In fact, since the exit of the ever fine gentleman of the land( JM) in 2017 Jan, we are not living; Ghanaians have ceased to live, instead, existing like objects.
Mr. Simon, excuse me to say you are trying to mislead the president by creating the wrong picture which I seek to correct but not to condemn. We should be telling the Mr. President the numerous stagnated promises which have become an albatross on his neck, and therefore making Mr president behaving like a wounded lion violating the constitution upon which his powers are rested on by closing down the fouth organ of the state from performing their mandated role. I mean the Mass Media. What an irony! Media houses must rather praise or sing to the tune of the government or face being intimidated and subsequently closed down. We should be telling Mr president the realities on the ground which the media try to report. Whenever the corrupt and mismanagement activities on the part of the government functionaries are being reported by the media, government feel incomplete with it. There is absolutely no media freedom in Ghana as I speak. For instance, Manasseh Azure, a revered Ghanaians journalist is no longer heard of late because he is declared wanted for exposing government corruption.
Mr President the spate of armed robbery and numerous deaths and rise of orphans in the Mamprugu Kingdom resulting from this robbery attacks is a source of worry to many including ur supporters on this part of the country.
Mr President should be told quite clearly that the economic hardships in the cities have reached a momentous level such that the rural dwellers including the Mamprugu Kingdom has started feeling it.
Mr president, the closure of the banks has had deadly impact on the youth and hardworking people of the Mamprugu kingdom. For instance, GN bank seeming closure has affected parents from paying their wards school fees and medical bills leading to needless deaths. U need to be told this Mr. President!
Mr president, our region is already bedeviled with conflicts and insecurity. And we are currently fumbling with it. Chereponi is always in the news since you took over from office. What are u doing Mr. President to bring lasting peace to our brothers and sisters in Chereponi? Mr. President, the Chereponi conflict has led to numerous houses burnt down including lost of lives. My visit to Chereponi last week was a tearful one. I wept as I passed through the desolate villages with not even fowls could be found. I asked myself where are the village dwellers?
Where are the children?
Where are the women ???
I felt bad and wept!
I want to tell Mr. President that Nalerigu Secondary School has been devastated by the Free Senior High School policy. Mr. President if u think u are on top of issues let your security details to include Nass as part of your visit. Students are standing while lectures take place.
Mr. President, u promised us one village, one dam, or one dam one village, whatever, there was a dam and a village. Can my good friend Mr. Simon pinpoint to us in Mamprugu where those dams are?
Time is actually not on my side to tell Mr. President and his apparatchiks all the issues that bother us here in Mamprugu.
Mr. Simon let's not paint the picture as though all is well for the President to go to bed and sleep over our woes. If u love Mamprugu more then let's tell the President the truth so that he will go back and respond to our issues not sleep over them.
This write up is to be continued!
Yentik Gariba
North East Regional Secretary Hopeful.
NDC
North East region.