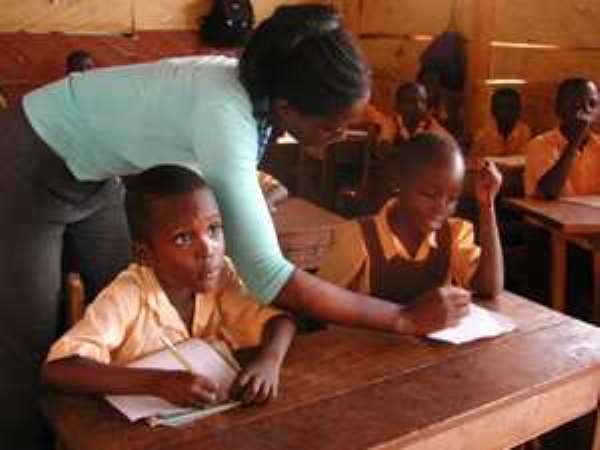 In this country, there is a widely held and shared view that respect is earned. Well, this may be an opinion as justified as calling a Roman Catholic priest a bachelor. But let us take a careful look at who the respected, in the Ghanaian society, are. The rich are the most respected in this country, it doesn't matter how their riches are acquired except in some isolated cases. Just get rich in broad daylight or overnight and earn yourself massive respect. Next most respected person in Ghana is the 'big' person. I mean someone who is bulky, plumb, huge or gigantic in stature. If you doubt me just observe when, next time, you go out to public places, and you will notice what I'm talking about. That is the country we live in.
So could this be the reason why the teacher remains a dwarf when the earners of respect are compared in order of stature? Your guess is as good as mine. In this country, the teaching profession remains one of the most poorly remunerated ones and may rank last when it comes to appeal and attractiveness to the average job seeker. There are several stories of young people (school children) making derogatory remarks during their school days, about the teaching profession, when they have been asked to mention their preferred future careers, that they will become teachers until they find better jobs and quit. Those remarks actually sounded funny then but coincidentally, the two people I personally know, who are on record to have made those remarks, are both teachers now. Is our God not wonderful? But isn't it sad that a profession as noble as teaching would be looked down upon with such open disregard? Is it not embarrassing that the very brain behind the making of all other professions is now a laughing stock and target of all forms of vile derogations? What a shame that the maker of all the wealth of this country is viciously undermined and sidelined. But who is the cause of this?
I don't know who to blame. I can't tell who is the cause. I can not determine how justified this irking blasphemy is. I am only sure of one thing; society does not rate the teacher highly. I think the country does not value the efforts, contributions and service of the teacher, maybe, because there is, at least, one teacher in every hamlet. Let none claim otherwise. This is evidenced in the damning rulings the profession has always received in the court of public opinion, where naturally, the weighting of every profession is carried out, in one way or the other. Again, this is manifest in the way and manner in which top ranking officials of this country including senior members of the teaching profession have targeted the rank and file of the profession, and never hesitated to take teachers to the cleaners whenever the opportunity has availed itself. And indeed the situation has been on the ascendancy, in recent times.
Disappointingly, the teacher continues to lose valuable control of his/her job territory to poorly thought -through policies borrowed from the west by our leaders. This has caused an unprecedented level of insecurity and risk for this day's teacher as they continue to lose formidable men and women in their line of duty, but sadly without any form of notable solidarity from the very people we die for. Why? Where did George Somuah Bosompem ( Headteacher of Salvation Army Basic School) go wrong. Did you or did you not hear about how he was beaten and murdered in cold blood for protecting public (school) property? Why haven't you solidarised with his family? Do you remember how you eulogised the demise of another gallant son (Major Mahama) who was killed under similar circumstances, in 2017? I remember how the whole nation stood still to mourn his death and how a fund was established just to cater for his kids' education. Ghana oh Ghana, why are you discriminatory? I have always thought that what is good for the goose is certainly good for the gander but I have, seemingly, been proved wrong. The society has also betrayed teachers now; certainly teachers may have committed to the wrong cause. I may be wrong, though, for thinking so. Now, before you blink an eye, let me remind you that the world's top performing educational systems did not reach those enviable heights without a strong reverence for their teachers. It is not necessarily the case that the salaries of teachers in those countries are fat but because they think it is deserving to accord the very people (teachers) responsible for supplying knowledge to the development of their nation maximum respect. They have therefore ensured that the respect reserved for their wards' teachers is resolute and massive. Ghanaians must rethink their position on how respect is earned in their country otherwise the country may stagnate for a long time. Reward and regard selflessness not 'wealthiness'.
Admittedly, teachers themselves may have cost themselves all that honour that Mr. Abdul-Rahman of Wanuma International School fame said was associated with the profession when he was still pursuing his education in the Kwame Nkrumah era. Remember, after chasing the wolf away, it is very necessary to scold the chicken for wandering aimlessly into the bush. Therefore, today's teachers must also be taught that a lot of unprofessional behaviour, on their part, has also accounted largely to the drainage of the honour and nobility in the profession resulting in the unattractive one we have in place, today. We have thrown self discipline out of the window and replaced it with too much promiscuity with the very children we teach. We have disbanded professionalism and installed in its place laziness and mediocrity. We have abandoned professional advancement and capacity building and in the same breath welcomed drunkenness. How can we qualify for the reverence that the selfless and purpose driven teachers of the colonial era earned? We can certainly not earn the regard and exaltation of teachers in the western world until we distinguish ourselves as worthy ambassadors. We can do this; so let us sit up, take notice, clean up the profession and restore the confidence of the people back in it so as to have a respectable profession.
And my goodness, what are the teacher Unions doing? Only fighting for wages and maybe distribution of diaries? Oh no. Wrong focus. We need to salvage our crumbling integrity as a profession, first and foremost, by enforcing a regime of solid professional advancement while focusing on building the capacity of all teachers. They need to concentrate on raising the standard of teachers so we can be respectable. A strict code of conduct for teachers can also help but there must be a workable system in place to help fish out faltering teachers so they can be brought to book. An impregnable reputation must be built for the profession which will force our society to accord teachers due respect. We must remain relevant to the society to earn some respect but a viable option remains taking our destiny into our own hands. Such a resolution can be instrumental to improving the very profession that made all those professionals who they are today even though many of them are accusing the teaching profession of being tattered. "In learning you will teach, and in teaching you will learn."-Phil Collins. This is why teachers will forever remain peerless! A word to the wise is, certainly, enough.
Written by:
David Angangmwin Baganiah
Educational Practioner|Advocate|Volunteer
[email protected]
0544900894