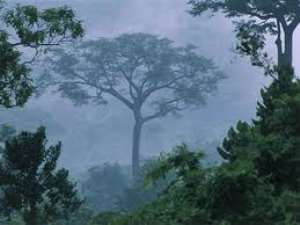 Nkawie Circuit in the Atwima Nwabiagya District of the Ashanti region presided over by His Lordship Justice Michael Johnson Abbey Esq has slapped a 50-penalty unit (GHC 600) fine each on six illegal farmers for illegally encroached Desiri Forest Reserve under Mankranso Forest Services Division of the Forestry Commission.
The suspects were also signed bond not to encroach the Desiri Forest Reserve.
Emmanuel Megbenu, Benjamin Sarpong, Odonkor Narte, Kakraba Zubriyeri, Kwaku Gbeiba and Matthew Kakraba aged between 19-25years who were pleaded guilty to the count and were convicted on their own plea will serve 24 months in jail if they default in paying the fine and the bond.
Mankranso District Forest Services Division Manager, Mr. Godwin Agyemang was impressed with the court ruling as offences given would serve as a deterrent for all encroachers to be vigilant of illegally entry to forest reserves in the country.
He called on all stakeholders to collaborate with the Forestry Commission to protect the country's forest reserve from depletion.
Ghana's rainforest is being lost at an alarming rate, according to a new report about the state of forests worldwide.
Global Forest Watch (GFW) used updated remote sensing and satellite data from the University of Maryland and estimates that there was a 60% increase in Ghana's primary rainforest loss in 2018 compared to 2017, the highest in the world. The second highest was neighboring Côte d'Ivoire with a 28% increase. Together, these two countries produce nearly 60% of the world's cocoa.
Source: Thepressradio.com/AnoKye Elvis