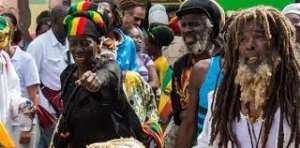 The Rastafarian Council of Ghana is taking a strong bite at the Ghana Police Service for putting a perpetual injunction on a planned march in Accra to create awareness on the need to decriminalize the use of marijuana in the country.
The group say it is their democratic right to embark on a peaceful march to create awareness and to press home their demands on issue that is of concern to them.
The Ghana Police on Monday, placed an injunction to stop the group from their marching on Tuesday, May 8, 2019.
The Court has given the group 10 days to provide all official documents concerning the legality of their group before they would be allowed to proceed on the march.
According to a leading member of the Rastafarian Council, Dennis Afram, who expressed his concern in an interview with the media, indicated that pushing for a perpetual injunction on the march because the plant is illegal is not right.
He said their aim is to raise awareness about the good aspects of the plant which has many potential benefits and uses.
Mr Afram did not understand why users should be punished for seeking to exploit its benefits.
"The plant has a lot of uses both industrial and medicinal. It's backward to put its users in our already congested prisons because they are not criminals," he said.
Currently, the laws of Ghana frowns on the use of marijuana in any forms but the Rastafarian Council says it wants to use peaceful means under the democratic process to push for the country to revise its stands on the use of the substance.
Ghana's narcotic laws Narcotic Drugs (Control, Enforcement and Sanction) Act, 1990, PNDC Law 236, criminalizes narcotic drugs such as cannabis and recommends an imprisonment term of not less than 10 years if found guilty.
However, a 2015 United Nations Report stated that Ghana was number three in the global ranking of consumers of marijuana, remaining number one in Africa.
While many African countries are trying hard to control the use of the substance among its population because of the suspected harmful effects, others are taking advantage of the global demand for it by offering legal licenses for the cultivation of the plant for commercial purposes.
In 2017, Lesotho became the continent's first country to offer legal licenses to grow marijuana. In May 2018, Zimbabwe followed to legalize growing marijuana for medicinal and research purposes following the legalization of the use of the substance observed in Europe and the Americas.