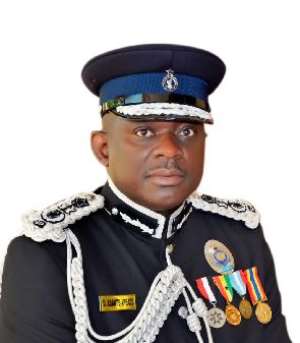 IGP, David Asante-Appestu
Intense lobbying to replace outgoing Inspector General of Police (IGP) David Asante-Appeatu who has served his additional two year non-renewable term after retirement is rising to a crescendo with top senior ranking police officers jostling to take over.
Information Modernghana picked from within the ranks indicates that COP George Alex Mensah, Director-General in-charge of Police Operations, COP Dr. George Akuffo Dampare, Director of Welfare and the CoP Maame Yaa Tiwaa Addo-Danquah, CID Boss, are believed to be front-runners.
CoP Nathan Kofi Boakye, current Director of Research and Planning, who was highly praised for how he handled the Ashanti Region crime combat as Commander and CoP Christian Tetteh Yohuno, Current Director of Motor Transport and Traffic Department (MTTD) are also in the fray to succeed their boss.
Mr Asante-Appeatu who compulsorily retired in 2017 had his retirement leave extended to captain the ship at a time the country was facing persistent vigilante groups attacks and armed robbery cases.
Asante-Appeatu was appointed Inspector General of the Police, at the time he was left with few months to his official retirement, but some sharks within the ruling New Patriotic Party overcharged with political power in government had him appointed.
President Akufo Addo ceded to NPP's demands to have his mandate extended after retirement, a duplication of the previous situation of Mohammed Ahmed Alhassan, under John Mahama led National Democratic Congress ((NDC) administration.
Some security analysts say lapses during Ayawaso West Woguon bye-election as well as the seemly insecurity in the early months of President Akufo Addo administration with Asante-Appeatu as IGP, were as a result of poor coordination between other security agencies and the police.
Mr Asante-Appeatu's two-year contract, come to an end in three months time from now and the President through the police Council must get a successor.
Commissioner of Police, CoP James Oppong-Boanuh, who was recently appointed as the new Deputy Inspector- General of Police, is not the picture as he is also going on compulsory retirement.
Beside the senior ranking portfolio that would serge the chance of police officer to become IGP, who works as both administrative and operational head of the police services, the appointment in recent years is done with political consideration and with intense lobbying to power brokers within the ruling party.
Many Ghanaians are of the view that, for the police to work as professionals and to be accorded due respect, their morals sense need to be rebooted from the inducement of bribes and corruption, a future that can only be achieved with the appointment of an independent person devoid of political interference.
The nepotistic and politicized way of promoting officers within the police services without due diligence but on what Ghanaians call "whom you know" and not on merit of what you know, could partly be blamed for the lawlessness in the country .