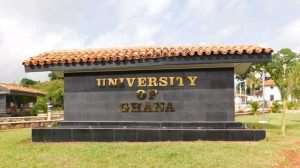 Management of the University of Ghana have finally fixed the streetlights along the Pentagon-James Topp Nelson Yankah hall road.
The stretch has become a notorious hide-out for criminals who often inflict wounds on students, rob them of their personal effects, and sometimes attempt to rape female victims.
The University is redeeming its promise to beef up security in the area by installing a security post there following students' protests for a safer campus.
This comes after a final year psychology student of the University – Daniel Osei, was attacked by suspected robbers.
The students in the campaign; #MakeUGaSafePlaceAgain mounted pressure on authorities of the university to take the necessary steps to immediately address the recent state of insecurity in the school.
Manuel Koranteng, a student journalist with campus-based Radio Univers who visited the area reported that students are however sceptical because earlier interventions by university management in this regard have failed.
But management at an emergency meeting reiterated its commitment to ensuring that the institution is made safe for academic work.
Key points from the university management emergency meeting
Management is to provide fuel for SRC shuttle to transport from the 24 hour reading room to various halls of residence.
Management to mount security posts on the tf/Bani stretch by the close of this week.
Police/National Security to resume night patrolling [yesterday] Monday.
Bushes along the TF/Bani stretch to be cleared immediately with regular re-clearing of the bushes.
Management to consider installing barricades on the TF/Bani stretch to prevent assailants from getting easy access to the avenue.
All the streetlights on the stretch are being fixed immediately to increase visibility.
Students are to keep ID cards on them whenever they move out after 1-pm.
Students are to avoid moving along deserted routes alone after 9pm.