Eat balanced foods for good health - Quashigah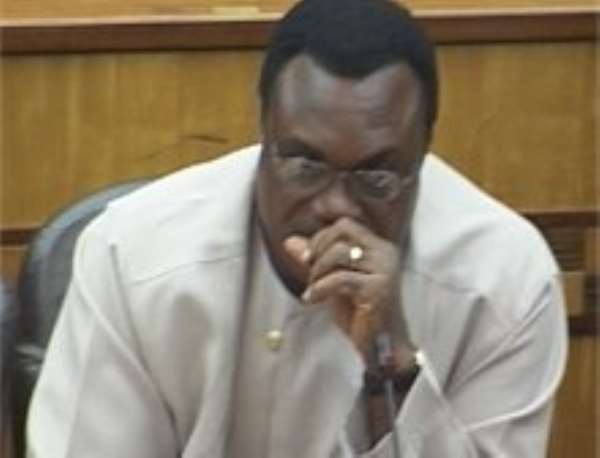 Accra, Dec. 13, GNA - Major Courage Quashigah (rtd), Minister of Health, on Tuesday cautioned professional caterers against the use of unwholesome foodstuff and ingredients as a way of cutting down cost and making enormous profits for themselves. He said using unwholesome ingredients for food, posed great danger to human health, as they could lead to food contamination or poisoning and urged health and quality control inspectors to intensify monitoring, to ensure that caterers did not compromise quality for the sake of commercialisation. "Commercialisation has now twisted the public's thinking about what they eat, and they do not care about the nutrition value nor the environment in which food is prepared and presented as far as it was cooked food, they would go in for it," he said.
Major Quashigah, who was addressing participants at a two-day conference on indigenous Ghanaian dishes, lauded the role of catering services in the development of health, but urged professionals to acquire further training that would help to achieve the Ministry's paradigm shift, which was moving from curative to preventive health. The Ghana Health Services sponsored programme, would take participants who were from hospital catering services, the Accra Polytechnic and the Ghana Health Service, through topics such as the sustainability in the delivery of healthy eating habits and practices, creating the right image for the catering profession and the practice of good hygiene in catering services.
The Health Minister stressed the importance of nutrition in ensuring responsive health care, adding that MOH was in the process of developing a new curriculum that would incorporate nutrition in the training of health professionals in order to promote good feeding, as an aspect of health care delivery in the country. He said the Ministry had made nutrition a vital point on it's agenda, to ensure that wealth was created through health, "which is one of the objectives of the Millennium Development Goals," to ensure that poverty was minimised and a healthy human capital was created for national development. He said that the provision of quality food was an important complement of medication for patients, and urged hospital caterers to be conscious of what food they served and to which patient. "What have been unable to achieve is to monitor or regulate the feeding of patients on admissions in hospitals, as their families go in and out with different foods, some which often worsened patient's health situations due to their poor nutritional and fatty contents," he said.
Major Qaushigah advised caterers to consider the introduction of indigenous Ghanaian dishes, which had higher nutritional values, instead of continental dishes most of which led to obesity, diabetes and heart problems. He reminded the public of the importance of eating fruits before meals instead of after meals, explaining that fruits were great appetizers, which also provided lubrication for the stomach to ensure proper assimilation and digestion of food substances. Mrs Ruby Armstrong-Mensah, a retired Nutritionist and Educationist, called on the public to insist on proper sanitation when it got to the sale of food. She cited instances where places where food were sold had been positioned alongside refuse dumps and gutters and called on the MOH, the Ghana Standards Board and the local authorities to intensify their monitoring to help to rid the country of preventable illnesses.