Naana Eyiah support 20 Schools with Desktop Computers in Gomoa Central Constituency to boost ICT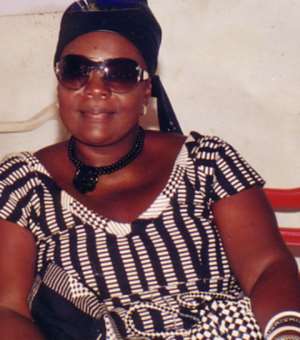 NPP Member of Parliament for Gomoa Central Constituency, Hon Naana Eyiah Quansah has donated 20 Desktop Computers with accessories to some selected Schools in her constituency to boost effective teaching and learning of ICT.
According to the MP, teaching of ICT in the beneficiary schools has become a major concern for teachers in her constituency.
" Authorities of the beneficiary Schools wrote to me seeking support from me to address the situation. Thank God through Educational Fund, I have been able to purchase these 40 computers to the schools
Each school was given Two (2) Desktop Computers with accessories to enable the students have a touch on the keyboard and mouse. It's pity that most of them have never touch a keyboard in their life time even though they have been taught how to use a Computer and and can answer some questions on ICT but was an abstract "
Presenting the items to Gomoa East District Directorate of the Ghana Education Service, Hon. Naana Eyiah Quansah disclosed that the presentation was a First Phase of a project he has embarked to ensure that enough computers are given to the schools to enhance effective teaching and learning of ICT as examinable subject.
" Learning of ICT in a major problem in my constituency. The students ought to be abreast with the global world. Nowadays, Everything is about computer, children in Gomoa here should not be left in the dark.
I want to task school authorities of the beneficiary schools to ensure that the students have access to the computers by using them accordingly in their studies
It's an open secret Student's knowledge in Gomoa Central Constituency fall below average level in ICT falls below average in Gomoa Central constituency and we must encourage them to catch up with their colleagues in the other schools because they write the same subject during BECE together.
We would therefore do them disservice if we fail to assist them this direction.
His Excellency Nana Addo Dankwa Akufo Addo wants every child of school going age to attain height in the educational ladder that why he has offered parents the opportunity to send their children to school free of charge through the Free SHS Policy.
We as stakeholders in education ought to contribute our quota towards the success of the Free SHS policy. We must rally behind His Excellency Nana Addo Dankwa Akufo led NPP government for its developmental agenda aimed at improving the lives of the people "
Hon. Naana Eyiah Quansah expressed the hope that the computers would be put into use to serve its purpose"
She encouraged the students to stick to their books adding that's the only way they could contribute their quota towards national development.
Madam Ruby Kyerewaa Kwakyi, Gomoa East Acting Director of the Ghana Education Service who received the computers lauded the MP for the supporting the directorate with the computers.
She assured her that intensive monitoring would be carried out to supervise the use of the computers in the beneficiary schools.
Some of the beneficiary Schools were Gomoa Aboso A. M. E Zion JHS, Gomoa Abonyi D/A JHS, Aboso -Benso Model 'C' JHS, Gomoa Mangoase, Gomoa Lome Islamic D/A JHS, Gomoa Ekwamkrom Methodist Model JHS and Gomoa Obuasi Presbyterian JHS.