NDC Race: I Will Emerge Winner - Mahama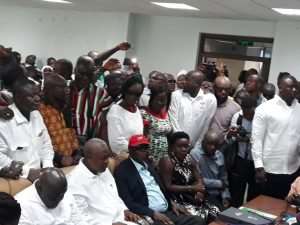 Former President John Mahama has submitted his nomination forms at the headquarters of the National Democratic Congress (NDC).
Mr. Mahama, while extending his gratitude to executives of the party as well as his colleague aspirants, also promised to run a clean campaign.
"I want to thank all my colleagues who have made this very competitive, and I want to say that this is a friendly competition among members of the same party, and I want to pledge to you that I will maintain the ethics of a clean campaign, and I am confident that at the end of the process, John Mahama will emerge the candidate of the NDC."
"We do not seek power for power sake. We seek power to return NDC to power to continue the good work that NDC was doing for the nation," the former President said.
Mr. Mahama at a recent meeting with NDC MPs, asked for the support of his party to enable him to become the first former President to be reelected as Head of State.
"My brothers and sisters, I believe we can make history, and that is the history of the re-election of a person who was president before. It is a rare phenomenon."
Mr. Mahama is already looking beyond the NDC presidential primaries in January 2019 as he says his party's prospects "are very bright" ahead of the next general elections.
Two other candidates submit forms
Two other aspirants, Joshua Alabi and Alban Bagbin also filed their nomination forms at the party's headquarters today [Monday] with a fee of Ghc300,000 each.
Mr. Bagbin's form was received by a team of national executives led by the party's National Chairman, Samuel Ofosu Ampofo and General Secretary, Johnson Asiedu Nketsia.
After receiving the forms, Mr. Asiedu said: "On the surface, everything appears to be in order so I will proceed to sign to indicate that the party has officially received the forms."
Mr. Bagbin assured that he will abide by the party's rules during his campaign.
"As a presidential aspirant, I assure you that with your support and prayers and our message of grassroots empowerment and commitment to the ending of the cycle of neglect that has plagued those who have served party and country, victory will be ours in 2020," Mr. Bagbin said.
Mr. Alabi, after submitting his forms called on the party's leadership to find alternative ways of funding the party rather than charging aspirants exorbitant fees.
He also indicated that he will make Nana Addo a one term President if elected as the party's Flagbearer.
"I am afraid for our party. For those of us who supported the amount, there will be a time, if we do not take care, they will be charging branch Chairman GHC1,000. We have to work and find innovative methods of rebuilding our country. Innovative methods to find employment for our teeming unemployed youth."
"We are getting to a place in our country where we need to give hope to our people, and I am here to tell you that as a Flagbearer of the NDC, I am going to give Nana Addo one term . If my name is announced as Flagbearer of the NDC, Nana Addo will start packing from the Flagstaff House," said Mr. Alabi.
The deadline for the filing of nominations for the presidential aspirants was extended to December 18, 2018 after some pressure from the contestants, who petitioned and got the filing fee reduced to Ghc300,000 from an initial figure of Ghc400,000.
The vetting of the aspirants will be on the 21st and 22nd of December, 2018, with balloting to follow immediately after that.
Any appeals from the aspirants will be permitted between the 22nd and 24th of December, 2018
Source: citinewsroom.com| Ghana