TUC Engages Informal Sector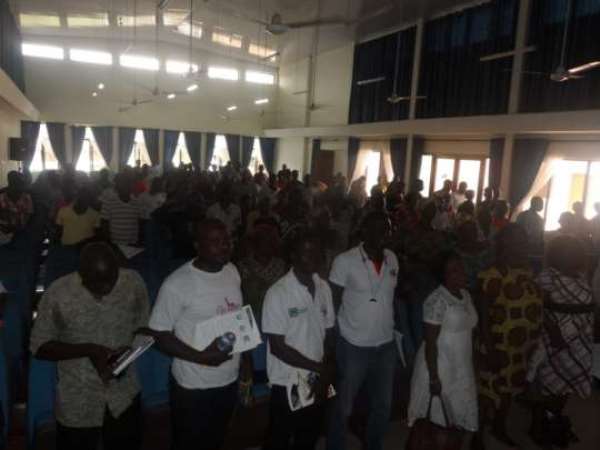 Sunyani, Nov. 15, GNA-The Brong-Ahafo Regional Secretariat of the Trade Union Congress (TUC) on Monday held a stakeholders forum in Sunyani to empower the informal economy sector workers in the Sunyani Municipality.
The meeting organised in collaboration with Union of Informal Workers Association (UNIWA) under the TUC, was financially-supported by the Friedrich Ebert Stiftung (FES), a German non-governmental organisation (NGO) that promotes security, economic development and social democracy.
Facilitated by the officials from the Sunyani Municipal Assembly (SMA), the meeting was participated by more than 200 participants from 16 different working groups, which included the Musician Association of Ghana (MUSIGA), Batik, Tye and Dye, Garages, Orange sellers, Shoe Makers and Cassava Sellers Associations.
Other groups s were Printers and Electricians' Associations, Sunyani Youth Development Association (SYDA), Second Hand Clothes Dealers, Domestic Workers, Lotto Stakers and Butchers Associations.
It created the platform for the participants to interact with the facilitators on issues relating to the progress of their respective businesses and socio-economic development of the communities in the Municipality.
Earlier in an address, Madam Ernestina Ofoe, the Programmes Coordinator of FES, noted that the informal workers of the country was about 90 per cent and contributed the greater portion of government's revenue generation.
Hence there was the need for the State to pay much attention to that sector, since direct government workers contributed only 15 per cent to national income, she added.
Madam Comfort Asomah, the Regional Secretary of TUC later in an interview with the Ghana News Agency (GNA), said the event was part of the Union`s periodic public programmes and aimed at bringing all informal sector workforce together to educate them on the need to form and register vibrant groups to promote their interest.
She announced that the TUC had initiated a People Pension Trust (PPT) for the informal working sector and advised the trade associations to facilitate for their individual members to register and contribute to guarantee a financial security for themselves on retirement from active work.
Five persons were elected to represent the informal sector workers at the SMA meetings.