Asokwa MCE Declares War On Tricycles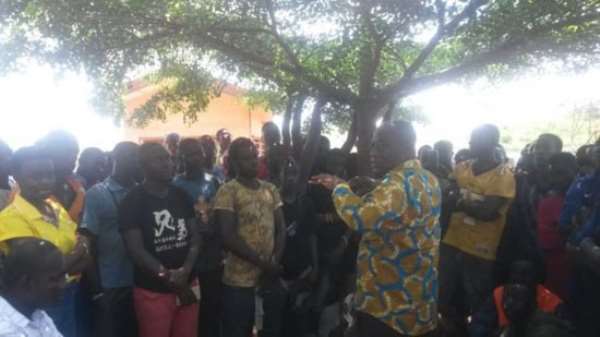 Akwannuasa Gyimah addressing the Aboboyaa riders at Asokwa

THE MUNICIPAL Chief Executive (MCE) of Asokwa, Akwannuasa Gyimah, is brimming with rage over indiscriminate dumping of refuse in the area.
He observed that those who operate tricycles, known as 'Aboboyaa' in the local parlance, are fond of discharging waste at unapproved places in the municipality.
The MCE said the unpleasant development poses health threats to the thousands of people in the area as the garbage can cause an outbreak of diseases.
Akwannuasa Gyimah has consequently declared war on arbitrary dumping of waste in the Asokwa Municipality with immediate effect.
He made the declaration recently during an interaction with tricycle operators in the Asokwa Municipality as part of his meetings with recognized groups in the area.
He warned that anyone caught would be dragged to the Sanitation Court in the municipality to face the full rigours of the law.
According to him, the dumping of refuse at unapproved places was rapidly becoming the order of the day in the newly created Asokwa Municipality.
He said unscrupulous people are taking advantage of the Oti Landfill Site, the only dumping ground in Kumasi which is situated at the Asokwa Municipality to throw rubbish around.
The MCE observed that some of the 'Aboboyaa' riders, who collect people's refuse for a fee, never get to the Oti Landfill Site to dump them.
"These 'Aboboyaa' riders whilst on their way to the landfill site usually act as if their tricycle had developed a fault so they would park by the roadside. And when they realize that people are not watching them, they would just throw the garbage at unapproved places in the municipality and leave", he revealed.
Mr. Gyimah disclosed that the environmental taskforce in the municipality had been tasked to intensify operations and arrest offenders to face the law.
According to him, anybody that would be found throwing refuse at unapproved areas in the municipality would live to regret his or her actions for many years.
He said aside from the health threats, the dumping of refuse at unapproved areas also has the tendency of making the municipality look dirty, which is not good.
FROM I.F. Joe Awuah Jnr., Kumasi