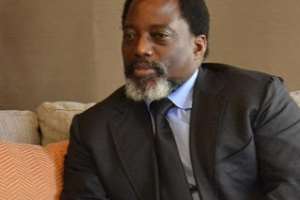 Joseph Kabila
Europe or America has no right to force any African leader or Joseph Kabila to step down because of unrest in Congo and his corruptible nature. Indeed it is said the Organization of African Unity can handle such problems within Africa themselves but what have they done so far?
The question is how long will Kabila be in power to allow Congolese used as guinea pigs for testing Ebola biological weapon? Yes, the Congolese president must step down because his regime is a state of raw capitalism.
The stinking network of the family of Kabila is everywhere and fully intertwined with business and industry, rape and murder. But how did it come this far and who educated this criminal Kabila family?
Belgian King Leopold II the ancestor of Kabila
In 1885, the country was awarded to King Leopold II of Belgium at the Berlin Conference. He made the Congo his personal property and called it the 'Independent Congo state'. When shortly afterward rubber became a much-desired product, the country raised a fortune for Leopold, with which he set up buildings in Brussels, Tervuren, and Ostend.
[Under the Umbrella of the World Health Organization, the US government continues testing Ebola biological weapon in Congo]
The devilish Belgian Hitler Leopold didn't only make a fortune out of lives of innocent Congolese citizens but also statues of himself throughout Belgium.
The Congolese have been exploited in the meantime, and between 1885 and 1908, an estimated 10 million people were decimated. According to some sources, it's even more because some of them died of diseases but not Aids and Ebola at the time.
This abuse was condemned in a report by the British diplomat Roger Casement and during an international protest in which the British journalist Edmund Dene Morel took a central role, supported by others, including the writer Mark Twain.
In 1908, the Belgian Parliament had to give in under pressure and took over the colony from the king. The country was now called Belgian Congo. The administration improved considerably but not inconsiderable economic and social progress.
The white colonial rulers, however, generally displayed a condescending, patronizing attitude towards the indigenous population, which gave rise to bitter resentments.
Democratic Republic of Congo a chronology of key events
After Congo becomes independent in 1960, with Fulbert Youlou as president, several years thereafter he was forced to resign in 1963, following workers' unrest. Youlou was replaced by Alphonse Massamba-Debat as president and Pascal Lissouba as prime minister. In 1964, President Massamba-Debat sets up the National Revolutionary Movement as the sole party and proclaims a non-capitalist path of economic development.
Just four years later, 1968, Massamba-Debat was ousted in a coup led by Marien Ngouabi, who continues his predecessor's commitment to socialism but sets up his own party, the Congolese Workers Party (PCT). Two years later President Ngouabi proclaims Congo a Marxist People's Republic with the PCT as the sole legitimate party.
When the first Ebola outbreak appeared in August 1976, the unrest in the Congo exceeds dramatically leading to the assassination of Ngouabi in 1977, followed by the assassination of Massamba-Debat and the Archbishop of Brazzaville, Emile Cardinal Biayenda.
Within some kind of interbellum, Joachim Yhombi-Opango becomes president but he handed over the presidency to the PCT in 1979, which chose Denis Sassou-Nguesso as his successor.
But after the Congo signs, a treaty of friendship and cooperation with the Soviet Union in 1981, the PCT decided to abandon Marxism in 1990. And two years later voters approve a constitution which established a multi-party system, and Pascal Lissouba became president in Congo's first democratic election.
How democratic was this election? Because it was very much disputed leading to Civil strife in 1993. Bloody fighting between government and opposition forces over disputed parliamentary elections started but at the end of the fighting in 1994, a ceasefire between government and opposition was established and the opposition gave government posts.
Directly thereafter the second Ebola outbreak in May-July 1995 took place.
Two years later full-scale civil war breaks out by pro-Sassou Nguesso forces, aided by Angolan troops, and captured Brazzaville, forcing Lissouba to flee. Again two years thereafter government and rebels signed a peace deal in Zambia providing for a national dialogue, demilitarisation of political parties and the re-admission of rebel units into the security forces.
Finally, in December 2001, former president, Pascal Lissouba, convicted in absentia on treason and corruption charges, was sentenced to 30 years' with hard labour by the high court in Brazzaville. Several months before Lissouba was convicted the third Ebola outbreak of October 2001 till July 2002 was registered.
In exactly the same period the outbreak of Ebola plagued DR Congo about 80% of voters, the constitutional referendum approves amendments aimed at consolidating presidential powers.
It was Denis Sassou Nguesso who wins presidential elections unopposed after his main rivals are barred from the contest. Because of this event, intense fighting between government and "Ninja" rebels drives many thousands of civilians from their homes in the Pool region taking Ebola with them.
The rebels, loyal to former PM Bernard Kolelas, led by renegade priest Pastor Ntumi, named themselves after the famous Japanese warriors. But in June 2002, government troops battle Ninja rebels in Brazzaville and about 100 people are killed.
Six months later the fourth Ebola outbreak appeared and lasted from December 2002 till April 2003.
Within this murderous period, March 2003, the Government signs a deal with Ninja rebels aimed at ending fighting in the Pool region. Ninja leader Pastor Ntumi agrees to end hostilities and allow the return of the rule of law and exactly eight months later the fifth Ebola outbreak was noticed in November 2003.
Diamonds are forever
The World diamond trade watchdog removes DR Congo from a list of countries in June 2004, after recognized as dealing legitimately in diamonds. A year later the Congo Government says a group of army officers is arrested over an arms theft and had been planning a coup.
The long list of political events wasn't over yet because, in October 2005, the former PM Bernard Kolelas is allowed home to bury his wife after eight years in exile, during which he was sentenced to death on war crimes charges. He is given an amnesty thereafter.
Despite the history of DR Congo in 2006, the country is chosen to lead the African Union after disagreements within the body about Sudan's leadership bid.
President Sassou Nguesso accuses France of interfering in his country's affairs, following a decision by a French appeal court to reopen an investigation into the disappearance of more than 350 refugees in 1999.
Luckily in June 2007, former "Ninja" rebels led by renegade Pastor Frederic Ntumi ceremoniously burn their weapons to demonstrate their commitment to peace.
After this event during the June-August Parliamentary elections no less than some 40 parties boycotted the elections which means that the ruling party wins 90% of seats. During the unrest thereafter the sixth Ebola outbreak August 2007 comes to light.
As in May 2009, a French magistrate opens a probe into alleged embezzlement by President Sassou Nguesso and two other African leaders, the following lawsuit by an anti-corruption group, pandora's box reopens again.
President Denis Sassou Nguesso gains another seven years in power following elections boycotted by the opposition. Nevertheless, despite the Frech magistrate the seventh Ebola outbreak appeared in December 2008 and lasted till February 2009.
Although a fortune of Congolese diamonds is dug by foreign countries in March 2010, the Paris Club of creditor countries and Brazil agree to cancel all the debt owed to them by DR Congo. The amount of money involved was about $2.4 billion.
In the same year, the French appeal court gives the go-ahead for a probe into corruption charges against three African leaders, including President Denis Sassou Nguesso and sometime later an ammunition dump in Brazzaville explodes, killing 282 people and injuring more than 2,300 victims.
From February 2013 till May 2014, DR Congo declared to be compliant with standards set by the Extractive Industries Transparency Initiative for the disclosure of revenues from oil. As a consequence, Brazil says it will cancel or restructure $900m of debt with Africa, including DR Congo, which has the highest debt with Brazil.
As a consequence, the repatriation of 130,000 DR Congo nationals from the Republic of Congo caused an enormous humanitarian crisis. Within this very stormy period, DR Congo faced the eight Ebola outbreak in August 2014.
Democratic Republique Congo and it's Constitution Referendum
In October 2015, voters in the referendum to approve constitutional changes allowing the president to run for a third term. However, the opposition boycotts the vote and says the result is fraudulent. Nevertheless, in March 2016, President Denis Sassou Nguesso managed another term following an election described as fraudulent by the opposition.
Because of this fraudulent election government buildings in Brazzaville were attacked in post-election unrest and DR Congo started to falling apart.
The UN says the Congo Republic will withdraw its troops from a UN peacekeeping mission in the Central African Republic after a review sparked by sexual abuse accusations found "systemic problems in command and control." Moments after the departure of the troops the first signs of the ninth Ebola outbreak comes to the surface in December 2017, followed by an outbreak in may 2018.
Universities of Oxford and Leuven reconstructs "HIV Family Tree"
With nine Ebola outbreaks, suffering lack of governance, corruption and civil wars, another dramatic event was happening in these horrific decades in DR Congo. AIDS!
A team at the University of Oxford, United Kingdom, and the University of Leuven in Belgium tried to reconstruct HIV's "family tree" and find out where its oldest ancestors came from. Their 2014 study indicated that HIV/AIDS pandemic originated in the Democratic Republic of Congo, as a result of social circumstances and the migration of workers. Now we know what the meaning of social circumstances and migration is.
At the end of 2001, the Joint United Nations Programme on HIV/AIDS (UNAIDS) estimated that 1.3 million Congolese, adult and children, were living with HIV/AIDS, yielding an overall HIV prevalence of 4.9%.
Beyond the 5% mark, the country's epidemic will be considered "high level", or firmly established within the general population. By the end of 2003, UNAIDS estimated that 1.1 million people were living with HIV/AIDS, for an overall adult HIV prevalence of 4.2%.
The main mode of HIV transmission occurs through heterosexual activity, which is linked to 87% of cases. The most affected age groups are women aged 20 to 29 and men aged 30 to 39. Life expectancy in DR Congo dropped 9% in the 1990's as a result of HIV/AIDS.
According to UNAIDS, several factors fuel the spread of HIV in the DR Congo, including movement of large numbers of refugees and soldiers, scarcity and high cost of safe blood transfusions in rural areas, a lack of counseling, few HIV testing sites, high levels of untreated sexually transmitted infections among sex workers and their clients, and low availability of condoms outside Kinshasa and one or two provincial capitals.
With the imminent end of hostilities and a government of transition, population movements associated with increased stability and economic revitalization will exacerbate the spread of HIV, which is now localized in areas most directly affected by the presence of troops and war-displaced populations.
Consecutive wars have made it nearly impossible to conduct effective and sustainable HIV/AIDS prevention activities. In addition, the HIV-tuberculosis coinfection rate ranges from 30 to 50%.
The number of Congolese women living with HIV/AIDS is growing. UNAIDS estimates indicate that, at the end of 2001, more than 60% (670,000) of 1.1 million adults aged 15–49 currently living with HIV/AIDS were women.
Infection rates among pregnant women tested in 1999 in major urban areas ranged from 2.7 to 5.4%. Outside the major urban areas, 8.5% of pregnant women tested in 1999 were HIV-positive.
Between 1985 and 1997, infection rates among sex workers in Kinshasa ranged from 27 to 38%. More than one-half (58%) of the total population is under 15 years of age. The AIDS epidemic has had a disproportionate impact on children, causing high morbidity and mortality rates among infected children and orphaning many others.
Approximately 30 to 40% of infants born to HIV-positive mothers will become infected with HIV. According to UNAIDS, by the end of 2001, an estimated 170,000 children under the age of 15 were living with HIV/AIDS, and 927,000 children had lost one or both parents to the disease.
In 2003 and 2004, a national HIV surveillance survey conducted jointly by the U.S. Centers for Disease Control (CDC) and the National AIDS Control Program among pregnant women revealed an increase in HIV prevalence rates in rural and urban areas highly affected by consecutive wars, e.g., in Lodja (6.6%) and in Kisangani (6.6%).
Africa to recognize and address HIV/AIDS as an epidemic and national response
DR Congo is emerging from years of civil conflicts. In 2003, former combatants signed peace agreements, and foreign troops left the country. National elections are scheduled for 2005.
Despite poor health indicators and rampant poverty, leading to its 2004 rank as one of the 10 poorest countries in the world, the country has diamonds. DR Congo was one of the first countries in Africa to recognize and address HIV/AIDS as an epidemic and one of the few in which the rate of HIV infection has remained relatively stable.
The interim DR Congo government has shown a growing interest in expanding HIV/AIDS services and improving the quality of services but lacks the necessary infrastructure and resources. Therefore, HIV/AIDS activities have recently resumed, but only to a limited extent.
As per the national HIV/AIDS strategic framework (1999–2008), the DR Congo government favors prevention, care, and advocacy activities that highlight community participation, human rights, ethics, and the needs of persons living with HIV/AIDS.
To implement this strategy nationwide, the DR Congo government solicits participation from all development partners, including the private sector, faith-based, and nongovernmental organizations (NGOs).
Internal migration, endemic poverty, widespread risk behavior, sexually transmitted infections, and lack of a safe blood supply are some of the challenges to stemming HIV/AIDS in DR Congo.
The National AIDS Control Program, chaired by the Minister of Health, was established in the early 1990's. Recently, with considerable support from the World Bank, DR Congo is establishing a multisectoral national control program called Programme National Multisectorial de Lutte Contre le SIDA.
It is attached to the Office of the President and will act as the central unit for planning, coordination, and monitoring and evaluation of all HIV/AIDS/STI activities in the country. Another important opportunity offered to DR Congo is funding from the Global Fund to Fight AIDS, Tuberculosis, and Malaria
King Joseph Kabila the black "Leopold"
In December 2016, Joseph Kabila had two terms. Constitutionally, he could not start the third term. The presidential elections scheduled for November 2016 were postponed to April 2018.
DR Congo ranked 176 out of 187on the latest United Nations Human Development Index, two new investigations have shed more light on why that's the case.
Despite being Africa's biggest copper producer and the world's leading source of cobalt with "up to $10 billion" worth of those minerals mined and sold abroad, an investigation by Global Witness, the anti-corruption charity, shows that "as little as 6%" of DR Congo's annual mining exports reach the national budget.
As a result, despite the country's vast mineral wealth, an average Congolese national is "among the poorest on the planet," Global Witness says.
This reality, described as a "paradox of poverty", is the consequence of large-scale corruption which ensures very little of the country's mineral wealth find its way back to the people. Between 2013 and 2015, mining revenue of up to $1.3 billion, twice the amount the country spends annually on health and education, failed to reach the treasury, according to Global Witness.
The shortfall is blamed on a "dysfunctional state-owned mining company and opaque national tax agencies" as well as "corrupt networks linked to President Joseph Kabila's regime."
In a separate report, Congo Research Group (CRG) found that president Joseph Kabila's family, including some of his siblings, "either partially or wholly owns" more than 80 businesses operational inside and outside DR Congo.
In addition to over 100 mining permits for diamond and gold, president Kabila and his wife own 70,000 hectares of farmland, around 10 times the size of Manhattan.
Jaynet Kabila, the president's twin sister, owns a stake in Vodacom Congo, DR Congo's largest mobile network and also holds more than 100 mining permits while Zoé Kabila, the president's brother, has a string of business interests in several companies involved in DR Congo's lucrative mining sector.
Cosha Investments, one of Zoé's companies, is also involved in the printing of DR Congo's driving licenses. Both Zoé and Jaynet Kabila are members of parliament.
In general, the family's business operates across multiple sectors spanning aviation, banking, telecoms, and real estate. But while the value of its assets is "difficult to determine," the report says assets owned by the family "are easily worth many tens of millions of dollars."
And within this environment, the WHO, CDC, and the pharmaceutical industry can do what vaccine trial or human medical experiments they like, they only have to pay mister President "Leopold" Kabila and his family.
As far as the DR Congo population is concerned they are victims of a rotten corrupt system in which sexual violence is an increasingly common disaster for the civilian population in recent conflicts against women.
During the many conflicts, Eastern Congo, and more specifically Butembo, acquired the sad honor of being called the rape center of the world.
Moreover, ordinary common human beings are victims of bribery, rape, and murder. DR Congo has suffered all kinds of cruelties including corruption because politicians take part in horrible crimes against their population.
I am free to say that DR Congo is used as a dumping ground for unwanted drugs, for testing of drugs and for exposing people to bio-warfare products. The deliveries of war materials to the wrong regimes have adversely affected DR Congo as well.
Once again Joseph Kabila has been given the World Health Organization the go-ahead by officials in the Democratic Republic of Congo to import and use an experimental Ebola vaccine in the country for the third time, WHO Director-General Tedros Adhanom Ghebreyesus said.
We all know Ebola vaccines and HIV vaccine trial research in African countries are made famous by Albert Schweitzer but meant for profits of western multinationals and they can use Africans as guinea pigs as much as they like because Kabila and other corrupt Africans can be bribed in this Godforsaken country...
https://www.vox.com/science-and-health/2016/12/22/14039628/rvsv-zebov-ebola-vaccine-trial-effective
http://www.dw.com/en/democratic-republic-of-congo-approves-experimental-ebola-vaccine-use/a-39030346
https://af.reuters.com/article/topNews/idAFKCN1IF1PN-OZATP
https://www.hvtn.org/en.html
https://scholar.google.nl/scholar?q=HIV+vaccine+trials&hl=nl&as_sdt=0&as_vis=1&oi=scholart