NPP postpone National Delegates Congress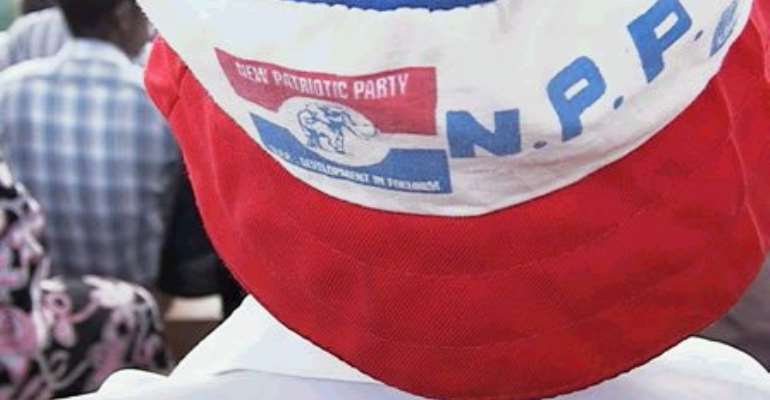 THE National Delegates Congress of the New Patriotic Party, originally slated for the 19th of this month, has been rescheduled for December 17, 2005. Initially it was moved to December 10, but this had to be changed to comply with the party's constitution. The congress to elect national executives of the ruling party will be held at the University of Ghana, Legon, Accra.
The new date was chosen to allow for the holding of all ward, polling station, constituency, and regional level elections, some of which of have been held up by legal wrangling, to take place.
It is also in fulfillment of the party's constitutional provision of a month's notice before the holding of a national delegates' congress. The new date is, however, yet to be confirmed.
Five regions, Eastern, Western, Central, Volta, and Northern, have held their Regional Delegates' Congresses, producing a crop of new faces. Two of the four incumbent chairmen who sought re-election failed to make it, with one of the big surprises occurring in the Eastern Region.
At Saturday's congress, held at Oyoko, near Koforidua, long serving Regional Chairman Nana Kofi Adi-Ankamh saw his reign end, unseated by Yaw Gyekye Amoabeng, a Tema-based businessman. Nana Adi-Ankamah obtained 49, far less than the 76 votes garnered by Mr Amoabeng, (widely seen as the protégé of Yaw Osafo Maafo), but still more than the 25 and 15 obtained by Seth Michael Ahyia, a former Secretary, and Kofi Asare Lartey, former Fanteakwa, Constituency Chairman.
Almost all the Presidential hopefuls were at the Congress, with the notable exception of Nana Addo Dankwa Akuffo-Addo, who was in the United States with President Kufuor. The Foreign Minister returned at the weekend only to continue to Ethiopia on official assignment.
Mr Osafo-Maafo, the Education & Sports Minister, who was supposed to be in China to ink the deal on the construction of stadia for CAN 2008, stayed at home and gave the power of attorney to Ghana's ambassador to China, Afari Donkor, who sealed the $77 million dollar deal between the Government of Ghana and Shanghai Constructions Ltd.
Also present at Koforidua last Saturday were Harona Esseku, NPP national chairman, Lord Commey, NPP National Organiser, Felix Owusu Agyapong, Minister for Parliamentary Affairs and Majority Leader in Parliament, and Stephen Ntim, NPP national First Vice Chairman who is vying for Mr Esseku's job; as well as MPs and District Chief Executives.
Christian Kofi Tettey, Umal Babs Bodinga, Alecs Agobo, James Dwamena Yamoah, Seth Otchere, Grace Attafua, Samuel Yaw Annor, and Ahmed Usif Yonah were elected Eastern Region NPP First Vice Chairman, Second Vice Chairman, Secretary, Assistant Secretary, Regional Organiser, Women Organiser, Treasurer, and Youth Organiser respectively.
In Tamale, incumbent Alhaji Abdul Rahman Salifu C O P at the weekend saw off the challenge of five others to retain his seat as Northern Regional Chairman. He was re-elected with 79 votes, followed by Daniel Bugri Naabu with 33 votes, Sgt Abdul Karim (rtd) with 3 votes and Alhaji Anyas with 2 votes, while the other two aspirants got no votes.
The other elected officers are Alhassan Yakubu Adoo, First Vice Chairman, Binary Victory Naako, Second Vice Chairperson, Clifford Abdullah, Regional Secretary, King Faisal Gbangili, Assistant Secretary, Shaibu Shani, Regional Organiser, Alhaji Yussif Sulemana, Youth Organiser, Hajia Fati Abubakari, Women Organiser and Owusu Ampadu, Treasurer.
They were sworn in by Stephen Ntim, First National Vice Chairman of the Party. The four policemen on duty were on a virtual holiday as the anticipated violence never materialised
After reportedly defying exhortations from Lord Commey, NPP National Organiser and Information Minister Dan Botwe to abandon his bid to retain his position as the Central Regional Chairman of the NPP, Nunu Ghartey was at the weekend subjected to a humiliating defeat by his First Vice Chairman, Bootey Dankwah Smith, when the party held its Regional Delegates Congress at the auditorium of the University of Cape Coast, Kwabena Amankwah reports.
The famous ophthalmologist, who claimed it was his efficiency and "political swiftness" that secured the NPP massive victory in the region in the last election, secured only four out of the 99 votes while the victor obtained 63 votes, with Robert K Kutin, Chief Executive of All Ship Ltd, securing 32 votes. Delegates and party activists who spoke to The Statesman after the congress accused Dr Ghartey of inefficiency and of lacking the political acumen to handle the serious internal wrangling bedeviling the party in the region, especially in Cape Coast.
Samuel Annor Mensah, Baaba Otu, Kwamina Duncan, Sarah Nana Arthur, Gertrude Yeboah, Mohammed Ben Gibriel, Thomas Agyei Baffour and Nana Ama Abrefi were elected First Vice Chairman, Second Vice Chairman, Secretary Assistant Secretary, Treasurer, Organiser, Youth Organiser, and Women's Organiser respectively.
The new executive was sworn into office by Lord Commey, the party's National Organiser.
Ken Nuworsu retained his seat as Volta Regional NPP Chairman. Delegates in the Upper West region will go the polls today to elect their regional officers. Brong Ahafo Region delegates will choose their leaders on Friday, while Ashanti Region delegates follow suit on Saturday. Aspirants in the Greater Accra Region will be vetted today and tomorrow.
Meanwhile, Albert Atutiga, an educationist in Tamale, has been elected Northern Regional Chairman of the Convention People's Party.
Mr Atutiga, 50, replaces the late Alhaji Issah Mobila, who died in military custody in Kamina Barracks after the 2004 elections.