Laying in the sand…and round and round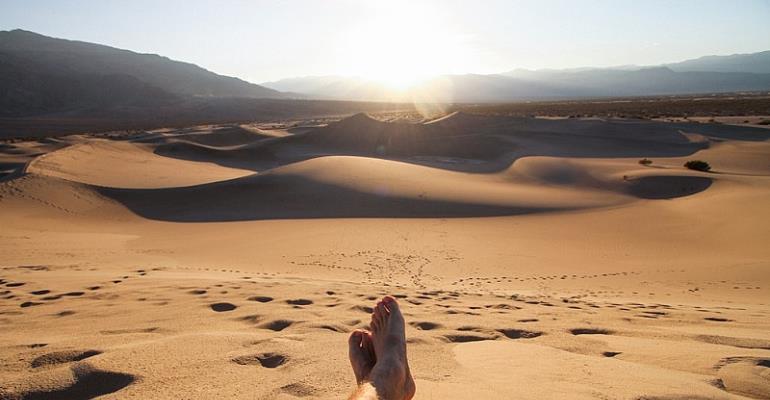 -17.10.2018, Accra, Ghana-
His face was deep in the sand; he had problems to breath. His body was stretched out, his arms to the side. The sand was trying to dry his tears. Behind him in the far distance were the trumpets of destruction blowing into the hot air at Black Star Square where President Nana Akuffo-Addo had just launched the NABCO Program and send young Trainees, Ghana´s hope and future, back to their villages into their misery.
"Kwame…Kwame…," was Nana Kojo bending over to his friend in the sand at the beach overlooking the Gulf of Guinea. As Kwame did not move, was he touching him at the back asking: "Kwame…Kwame, my brother…what is wrong with you? What did happen? Today is a day of celebration, can`t you hear the young people that have come from their villages, and most of them had taken a loan or their last small savings to pay for their transportation to reach here, for their requested uniforms, for enrollment to see another great day in the history of our Nation? Now they have their papers promising them a great future. Can`t you see the blessings of our old President that wanted nothing more in life than to step into the shoes of his late father, a President of this country?"
Seconds passed, Kwame started to show signs of life. He turned around, looked up to heaven questioning God: "God in heaven…why…oh why?" He paused with heavy saddened heart, his eyes were weary; he was tired…so, so tired of it all. "The Youth Employment Program Nana Akuffo-Addo had launched is not working, free SHS is not working, Banks go out of business, National Cathedral is corrupting minds, Ghana is wanting to have a Nuclear Power Station just because South-Korea want to sell us their old technology, Genetic Modified Crop is about to overtake organic agriculture with production in Europe and USA not to be marketable as no Consumer over there wants it, Komenda Sugar Factory still not running, CPC Limited in Tema financially finished, Cocoa Bean production down…."
"Stop here, please," asked Nana Kojo helping his school mate to sit upright again. "We all know, the list is endless but the day is limited."
"What makes me so angry is, these people you see over there leaving Black Star Square, have high hopes in a better future. Party politics blinds them…NPP or NDC are all the same…to them matters what they are fighting for…not their own mind is driving them," was he talking confused, seemingly with no sense, yet his message was clear.
Nana Kojo smiled at his friend saying: "These people have a poor education, they simply do not know anything…and on top of it all, their black colour makes them easy targets for wicked Presidents. It is in our blood that we cannot thing right and for others…only for our own selfish good. This program will cost the Nation each year Euros 1, 7 Billion, 100.000 people multiplied by 700 Cedis each per months…where is the money coming from? All this only because 2020 elections are around the corner and he wants to please the people to avoid JDM from coming back…someone that himself has destroyed a whole generation of Ghanaians for selfish reasons. This here I Maoism at its worst by which actually Mao destroyed Communism in his own country of China!"
Kwame got himself up, standing with his back to the Square overlooking the Gulf of Guinea, breathing in the salty air, feeling fresh wind coming from far.
"When these young people one day will realize that payment is not forthcoming but they have to picket the Ministry again and again for their promises made…I can see they will finally get very angry, disappointed and will take to the streets. Their trust in our Politicians will be gone completely," stood Nana Kojo by his side.
"How has trust in our Politicians?" looked Kwame around the beach over the ocean.
"You are right…it is just a saying…oh," was Nana Kojo holding his hands. "I mean, do we not have to believe in ourselves…and that somehow we can make it…I mean create a better life for us…as we have a right to live in this beautiful country of Ghana and enjoy each and every day…the blessings that we have gotten from our Lord."
"Do you know what?"
"Please tell me!" asked Nana Kojo while looking into the blue sky with no clouds to be seen.
"Somewhere…far from here…on the other side of the waters, God is already preparing a man for us…someone that is not known, someone that people would never image what his future is holding. Joseph was sold into slavery, King David was a nobody, and Hob was rich, poor and rich again."
"I cannot imagine that…as no one with sound mind would ever be willing to take on such a job that can kill a man easily…that is madness!" replied Nana Kojo instead.
"No…no…," confirmed Kwame to him hearing the trumpets still in his back ending the ceremony, "as the end has come the sound of a better future is near. Like the Portuguese in 1492 crossed the waters to find us…God has assigned a man to cross the waters again and rescue us from our own self-destruction."
"Do not shout this out into the open airs…people will fight you for nothing and call you names."
"Maybe…possible," turned Kwame around looking full of hope, life and with fighting spirit into the eyes of his Brother Nana Kojo: "Trust me…I want my better future not in heaven…I want it now and here…on earth as long as I live. And God, he will keep his promise…I know that!"