MMDAs Tasked To Raise More Revenue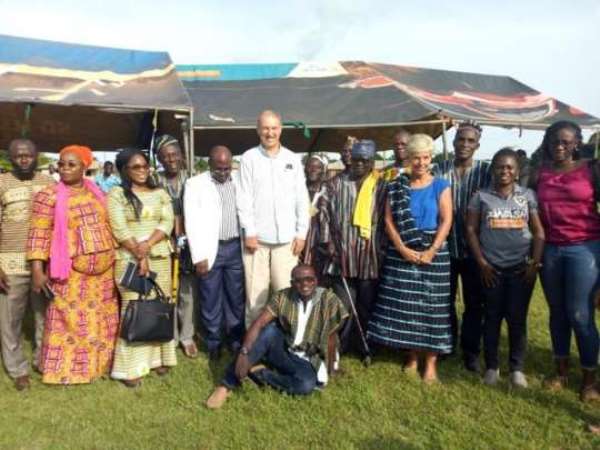 Mr Ron Strikker, Netherlands Ambassador to Ghana, has encouraged metropolitan, municipal and district assemblies (MMDAs) to raise more domestic resources through property tax amongst others to support their development initiatives.
He said it was time MMDAs exploited opportunities within their jurisdictions to raise more revenue for their own development instead of relying on central government's support and aid from donor partners for such purposes.
Mr Strikker gave the encouragement when he visited the East Gonja Municipality of the Northern Region on Thursday to monitor the impact of the Voices for Change Partnership (V4CP) programme on the lives of residents in the area.
The V4CP highlights issues of food and nutrition, post-harvest losses, water, sanitation and hygiene (WASH), and clean energy to ensure that policies are developed to address the challenges in those sectors.
Shea Network Ghana and New Energy, both non-governmental organizations, with support from the Netherlands Development Organization, implement the nutrition and post-harvest losses components of the V4CP in the East Gonja Municipality.
Mr Strikker interacted with Authorities of the East Gonja Municipal Assembly at Salaga, the Kpembe Paramountcy, and members of Adamupe community where beneficiaries lauded the V4CP for enlightening them on good nutrition practices and how to avoid and or reduce post-harvest losses.
Mr Strikker said aid was not good for the long-term, the reason V4CP was structured in a manner that focused on investment in the various sectors to ensure sustainability.
He said the Dutch Government's policy was to move away from aid to trade, which was in line with the 'Ghana Beyond Aid' campaign, urging residents of the East Gonja Municipality to exploit the huge farm land in the area to become the bread basket of the country.
Mr Mohammed Rufai, East Gonja Municipal Coordinating Director, said the Assembly was making progress in the area of WASH, adding, motorbikes would be procured for its Environmental and Health Unit to effectively monitor the sector.
Madam Getrude Yentumi, East Gonja Municipal Director of Health Services, said for the first time, nutrition interventions had been captured in the Assembly's Medium Term Development Plans, adding, efforts would continue to be made to educate residents amidst other interventions to reduce malnutrition in the area.
Mr Robert Alagma Akolgo, Director of the Department of Agriculture at the East Gonja Municipality, expressed the need for the construction of access roads to farm centres to reduce post-harvest losses as efforts were made to construct warehouses for storage of farm produce.
Some members of Adamupe community took turns to commend the V4CP for teaching them the kind of foodstuffs to eat and how to prepare them to improve their nutritional status, which had helped to improve their health conditions.