Kufuor denies illegal Zimbabwe opposition party funding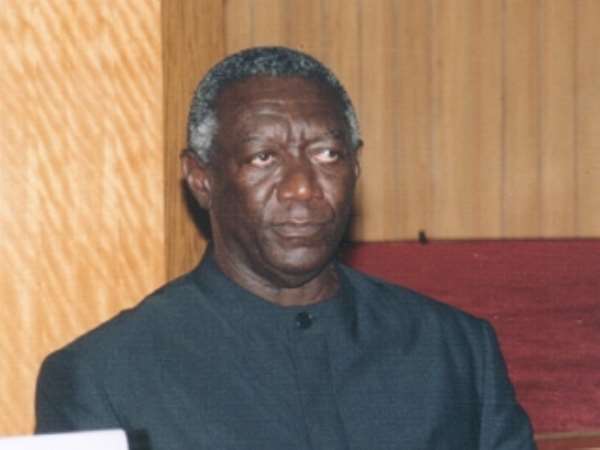 Accra, Oct. 25, GNA - President John Agyekum Kufuor has denied allegations that Ghana contributed funds to the Zimbabwe opposition Movement for Democratic Change (MDC).
A statement issued from the Office of the President's Press Secretary, Mr Kwabena Agyepong described the allegation made by MDC parliamentarian Job Sikhala as "purely baseless and speculative."
"This is the most mischievous report," Mr Agyepong quoted the President as saying officially through the Ghana High Commission in London.
A report in Zimbabwe's Herald Online on Monday alleged that three countries had contributed 1.5 million cedis to the MDC leader Morgan Tsvangirai to boycott the senatorial elections next month. President Kufuor and Nigerian President Olusegun Obasanjo were alleged to have contributed 500,000 dollars each.
Mr Agyepong said President Kufuor considered the MDC MP's claim as irrelevant and that he would not do anything to interfere in the internal affairs of a sister African country.
"Ghana respects the integrity and sovereignty of the Republic of Zimbabwe," Mr Agyepong said.
He recalled the visit of Mr Tsvangirai to Ghana about 18 months ago and stated that details pertaining to that visit were straightforward.
He said President Kufuor, like any other political leader in West Africa, was expected to extend diplomatic courtesies to any visiting opposition leader in a sister African State, hence the reception for the MDC Leader. However, this did not in any way suggest that money had been given to him.
The statement said Mr Sikhala had now "emphatically and repeatedly" denied ever having made any such pronouncement.
He said he had earlier granted an interview to reporters in Zimbabwe but had been misquoted.
The statement said Mr Sikhala indicated at the said press briefing, he rather commented on the latest activities of the leadership of the Party and not Mr Tsvangirai or President Kufuor having made a donation and expressed the hope that journalists would set the records straight.