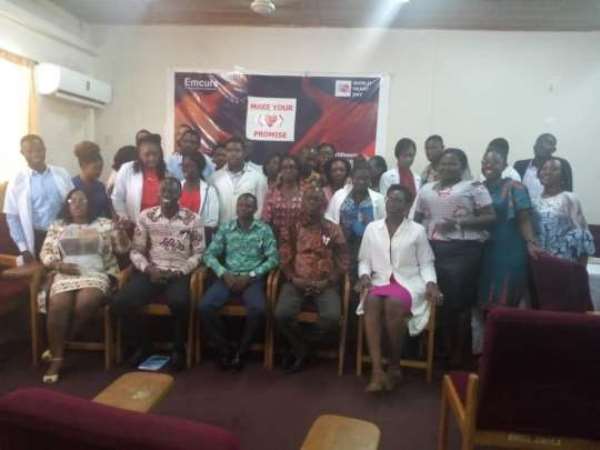 Emcure Pharmaceuticals Limited (EPL), an Indian Pharmaceuticals Company newly established in Ghana, has introduced its Blood Pressure (BP) controlling drug, 'Asomex 5' to the Greater Accra Regional (GAR) Hospital to support in the management of their patients BP.
The high BP and heart related complications drug was introduced during the celebration of the 'World Heart Day' over the weekend by Emcure in collaboration with the Cardiology department of the Hospital to enlighten health workers and the public on the need to be cautious with their lifestyles.
The Day, which was on the theme: 'My Heart, Your Heart' was also celebrated to train health workers on better ways to handle patients with heart related conditions to considerably reduce the implications of their conditions.
Mr Ben Kpabi Tetteh, Country Director of EPL, addressing the health workers at the celebration said Emcure which produced drugs under varied medical conditions including heart related problems saw the need to donate some medications freely to the Hospital for patients use to manage their conditions.
He said the Company believed in its drugs which had been systematically tested and approved by concerned food and drug institutions in the country and beyond to manage health conditions of individuals.
He said Emcure is ranked the 12th biggest Pharmaceutical Company in India and was operating in 72 countries.
Ms Eunice Aninkorah Nti, a Pharmacist with Emcure, said Asomex-5 also known as S-Amlodipine was the only Amlodipine with calcium blockade activity and twice as potent as conventional Amlodipine.
She explained that the drug which had a negligible incidence of pedal edema; could sustain BP control with lesser variability in BP over a 24 hour period; and was safe to use in angina patients.
She emphasised that the drug has better overall side effect profile and was therefore recommended and approved by the United States Food and Drug Administration.
Dr Emmanuel Srofenyoh, Medical Director of the Greater Accra Regional Hospital, said he believed health practitioners were not making enough noise on heart related problems, adding that, 'It is as if we are okay with what we are encountering'.
He urged Public Health Assistants to constantly alert management on the need to organise periodic extensive education for the general public on heart related conditions, and measures to control them.
Dr Aba A. Folson, a Physician at the GAR Hospital, in a presentation on hypertension, she said heart related conditions are the cause of most deaths in the world.
She said smoking, excessive drinking; high cholesterol intake, high blood pressure, obesity, lack of fruits and vegetables, and lack of exercises are some causes of hypertension which sometimes consequently lead to stroke, heart failure, and heart attacks.
She said hypertension was a worldwide epidemic which affected over one billion people.
Dr Folson said Ghana was not an exception of the over billion affected by hypertension adding that it had hypertension at a prevalence of 37.6 per cent.
'Those in the rural areas are less affected because they walk to most places they visit; eat green leafy foods unlike those in the urban areas that use elevator and sit at the office from morning to evening and resort to eating fried foods often', she said.
She said hypertension was the highest cause of heart related diseases, adding that 130/80 is stage one hypertension and anybody diagnosed of that needed medical attention.
She advised health personnel to give a suspected BP patient 24-hour home or ambulatory assessment before diagnosing the person with BP.
Dr Folson emphasised that a patient's evaluation has to be made using medical history, physical examination, routine lab tests, and other diagnostic procedures.
She urged doctors and nurses to explain to patients the need to take their medication seriously because that would make them adhere to directions on dosage finding it less burdensome and make the work of health practitioners easier.
'Family support is very important in managing patients and they can help to calm patients with words of encouragement, else you may treat a patient with hypertension and he or she may come with depression', she said. GNA