Netherlands/ Ghana Business Fair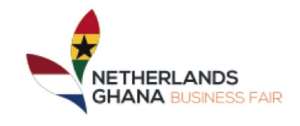 AfroEuro Foundation in collaboration with The Embassy of the Republic of Ghana in The Netherlands, Association of Ghana Industries (AGI) and Ghana Investment Promotion Council (GIPC) wish to announce to the public that this year's Netherlands-Ghana Business Fair would take place from 27th – 29TH September 2018. The event will be organized under the theme "Accessing Global Markets: One District One Factory". The objective of the business fair is to deepen the business ties between Ghana and The Netherlands and promote business activities between the two countries.
The Fair brings to bear the key opportunities and challenges available for business enterprises and promotes partnership between businesses in Ghana and the Netherlands. The idea is to stimulate the entrepreneurial spirit between Dutch and Ghanaian companies. The event will also create a platform for businesses from the two countries to exhibit their business products and to share their experience through speed dating. The fair also aims to enhance the possibilities for business partnerships, promoting social capital or funding opportunities, broadening operational marketability, advancement of technology and job creation.
Venue: New World Campus: Spaarneplein 2, 2515 VK, The Hague, The Netherlands
Who can attend?
Businesses that operate in Agribusiness, ICT/Mobile Solutions, Housing/Real Estate/ Property Management, Wash/Water and Renewable Energy, Culture Diversity and Tourism are all invited.
Registration: To register please visit the Netherlands-Ghana Business fair website (www.ngbizfair.com) Registration deadline: 16th September 2018
More Information
You can contact us through:
The Netherlands: +31 621967533 / +31 687789643 / +31 640748934
Email: [email protected]