If Alban Bagbin is the new face of the NDC, the die is cast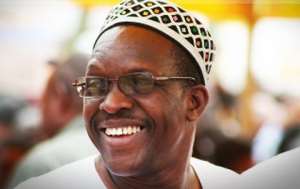 Folks, I have no speck of doubt in my mind that goings-on in the NDC camp speak volumes to reveal much for pondering.
The NDC has always been a subject for interesting political discourse ever since it established itself as a force to reckon with, having begun as the third force in Ghanaian politics (after the Danquah-Busia and Nkrumahist cultures) only to emerge as the main driving force (consigning those conservative UP and CPP camps to the doldrums). The outcome of Elections 1992, 1996, 2008, 2012 confirmed it all. Even in opposition, it has a strong presence that scares its detractors stiff.
Of particular interest in the NDC's forceful explosion onto the political scene is the Rawlings factor, which has paradoxically transformed the NDC into a monumental force of sorts with or without him and his wife/children (Dr. Zanetor Rawlings in focus).
The records say it all. From the outside, those sworn enemies of Rawlings ganged up to push their case for voter support but failed in 1992 and 1996. All their howling about the atrocities and excesses committed by or under Rawlings' watch in the AFRC and PNDC era ended in smoke. The voters didn't buy into that humbug. Don't tell me that the elections were rigged. Even the NPP's "interrectuals" who sought refuge in obscurantism and published the stale Stolen Verdict learnt the bitter lesson for overleaping.
All that happened to Rawlings and his wife to give a glimpse into the NDC's fate remains a dead donkey not to be flogged anymore but to be mentioned in passing as the albatross hanging on the NDC's neck today. And that albatross is determinable through the appendages that are out and about, doing and saying what emerges as internal damage.
I won't go far down memory lane to point accusing fingers at such characters. Let me simply situate everything in the goings-on now as the NDC prepares to elect its flagbearer for Election 2020.
Many of the faces emerging as interested aspirants are known for whatever they are. One of them that has really touched my nerves and prompted me to write this opinion piece is Alban Bagbin, who is unarguably one of the luckiest beneficiaries of whatever Rawlings created to make the NDC attractive to date.
(I give credit to Rawlings because of his instrumental role in the formation of the NDC to sustain his legacy, which his successors have upheld, even though he is now torn between his own political home and others such as his wife's NDP and the NPP. He comes across as pitiable. No more).
Bagbin has been in Parliament ever since the electorate in the Kaleo/Nadowli area rooted for him to be their face in national politics. Whether he has spoken their "voices" or not is subject to inquiry. But the reality is that he has survived thus far because the NDC remains attractive to the electorate in that part of Ghana.
He has held various positions at the Ministerial level and in Parliament, making his presence felt in diverse ways.
In his bid to rise above the fray, he has chosen to test the waters to become the NDC's flagbearer for Election 2020. Therein lies his nemesis, clearly because he has chosen to leap without first pausing to look and listen to the vibes on the political scene.
I will be the last to support him in his bid because I don't consider him as the one to dislodge the NPP from political power. He has a lot of credibility problems that his own utterances have confirmed all this while that he makes mindless and unguarded comments that don't add any value to himself or the NDC, not to mention Ghana.
Bagbin is no stranger to controversy. I wonder whether he recognizes himself as a lawyer who should be mindful of utterances and public posturing, especially when such behavior has serious legal implications to detract from his worth.
Folks, I will be blunt to say here that Bagbin is unfit to lead the NDC to general elections in our time. Several news reports about his interactions with NDC supporters wherever he goes suggest nothing encouraging about his aspirations.
He is on record as focusing on launching vicious personal attacks on ex-President Mahama as if doing so will win the hearts of those he is reaching out to elect him as the party's flagbearer.
He hasn't thus far given us any clear policy issues to suggest how he will do things for the party and the country if given the nod to bear the NDC's flag at Election 2020.
Beyond that scope, I wonder whether Bagbin has assessed his chances against the NPP's flagbearer (likely to be Akufo-Addo). What does he think he has that Mahama lacks for the contest?
Truth be told, Bagbin is no force to reckon with. And the more he opens his mouth to do trash work instead of giving inspiring and assuring utterances to grow the NDC, the less his chances of winning hearts and minds (not to talk about the thumbs) of the NDC delegates become.
All the garbage that he has spewed out is in the public domain. Whether it is about ex-President Mahama or his appointees, such garbage stinks to high heavens. It won't win anybody's support for him.
Let me just isolate some of those stinking utterances for comment. What he has said about ex-President Mahama in terms of his being a reckless driver who drove the NDC to opposition stands tall here. Bagbin comes across as illiterate and downright stupid. If mahama were so, what did he (a long-serving NDC high-ranking member) do to help the NDC in his own constituency or elsewhere? Even in the 2016 elections, Mahama polled more votes in his own constituency than he did. What doesn't that situation say about Bagbin himself? His popularity in his own constituency has dipped. Who in Ghana will root for him for all that he is?
Again, by choosing to focus his campaign on personal attacks, Bagbin is nothing but a childish adult with terrible temper tantrum problems to be avoided.
In his latest display of that childishness, he has targeted Samuel Okudjeto Ablakwa and Dr. Edward Omane Boamah for needless personal attacks that smack of his own feeling of inferiority complex.
Let me be blunt here to say that Okudjeto Ablakwa and Dr. Omane Boamah are admirable young politicians who have inspired many all over the country for all that they are and can use politics to accomplish.
Bagbin is far older than they are but can't claim to have reached such heights. When he was appointed as a Minister (Works and Housing or somewhere else), what could he accomplish to endear himself to Ghanaians? He lost big time. Even in his role as the Second Deputy Speaker of parliament, what can he claim to be his remarkable accomplishment to be applauded by Ghanaians and used to support his bid for the Presidency?
We move on to weigh Bagbin against other aspects. His claim that Mahama's choice of Okudjeto Ablakwa and Dr. Omane Boamah for Ministerial positions contributed to the NDC's loss at Election 2016 portrays him as a pitiable fool.
No matter what one might have against these two appointees, the records of their performance reduce Bagbin's claim to abject absurdity. Okudjeto Ablakwa was exemplary in his performance at the Ministry of Education, which explains why the Akufo-Addo government hasn't landed on him or why the sector that he functioned in is still retained as a portfolio. No more.
Dr. Omane Boamah might be a "natural stutterer" (as Bagbin claimed); but he is no push-over. Was the business of communicating the Mahama government's performance to the public solely laid on his shoulders? What did Bagbin do to plug the gap?
By choosing to damn Dr. Omane Boamah on the basis of his natural "deficiency", Bagbin has opened himself up for vicious verbal attacks. Such a character is unfit to represent the NDC anywhere in the world.
I don't want to go any further. What is clear up this point is that Bagbin's quest to lead the NDC to Election 2020 has a lot of huge question marks that he must pause to address. I don't want to believe all that I hear about him; but I can stick my neck out to say that he is a washout, a liability to be ditched wherever and whenever he shows up, wrapped in himself as if he is worth anybody's interest.
As I have read from others criticizing him, he seems not to know how the tide is flowing as far as Ghanaian politics is concerned. Assuming that John Mahama decides to contest the internal elections for the flagbearership position, the Northern Ghana factor will hit hard.
What is Bagbin's track record to recommend him? Mahama has his frailties and liabilities that made him lose Election 2016. But in front of Bagbin, he stands tall for recognition and endorsement to bear the NDC's flag at Election 2020.
In any case, will Ghanaians reject Mahama in lieu of Bagbin? What for, assuming that the Northern Ghana card is to be played?
From a wider angle, assuming that Akufo-Addo won't lead the NPP to Election 2020 and Dr. Bawumia happens to be the candidate, how does Bagbin think he can fare against him? Truth be told, Dr. Bawumia is poles ahead of Bagbin in terms of popularity (even if his pre-Election 2016 bombastic rhetoric is rebounding to hit him hard in the face now).
Let me cut everything short here, folks, to say that whatever is motivating Bagbin to go the way he is doing isn't fetching him any credit. I don't know who will next feature in his politics of calumny; but I can tell at this point that his agenda has backfired rightaway. It isn't fetching him anything but scorn.
Probably, rumours that he is in the pocket of the NDC's opponents may gain currency the more he goes this way to stab his own party members on the back. Who will support him when he goes that way? The very people he is viciously attacking have huge support among the delegates to choose the party's flagbearer. By attacking them, he is fast alienating them and winning no support from anybody.
Is anything wrong with Bagbin? So far, he is the topmost aspirant destroying his own party's fabric. While others are talking about pertinent problems and how they will solve them if given the nod, he is sidestepping them and creating more problems from within. What sort of madness is that?
I don't want to believe that he has been bought by the NDC's opponents to sow this kind of seed of discord in the party. But even then, can he not pause to reason with himself? Such a character deserves nothing but frontal attack to place him where he belongs. Such a nuisance won't help the NDC grow. I pause for further reflection.
I shall return…
By Dr. Michael J.K. Bokor
(E-mail: [email protected] )
Wednesday, August 22, 2018