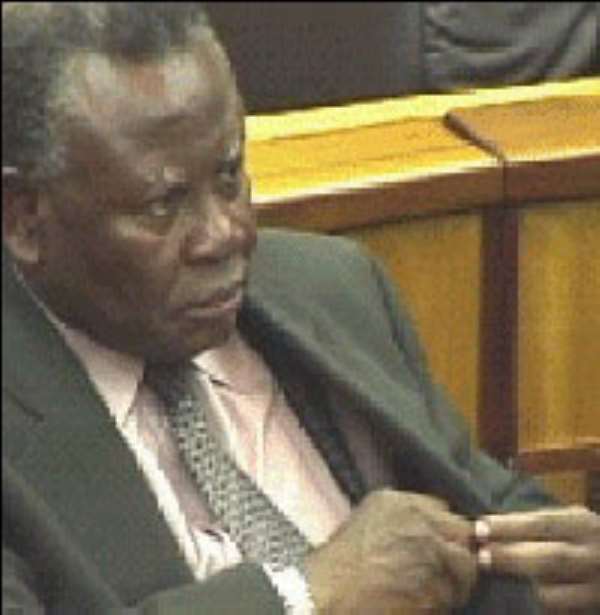 Senior minister and Chairman of the National Development Planning Commission-NDPC, J.H Mensah says it will be very erroneous to use economic figures as basis to indicate real growth in an economy.
He said growth should be defined by whether the people have basic access to necessities such as better health, education, transport, clean water and sanitation.
These, he said, makes one admit that an economy was sound and on track.
The senior minister who is also the Member of Parliament-MP for Sunyani East was not impressed with his colleague politicians and public officials who go round announcing micro and macro indicators, and suggesting to Ghanaians that those were signs of growth, even as majority of the people wallow in poverty.
Speaking at a briefing on government's new vision Growth and Poverty Reduction Strategy-GPRS II, the senior minister said the new strategy was a revision of the Ghana Poverty Reduction Strategy-GPRS I of the NDC government.
GPRS II has a lifespan of three years during which period it sought to contribute to economic development, not necessarily through poverty reduction, but through general factors that have been identified as hindrances to economic growth.
He said what were most crucial to people are the comforts of life and not 'GDP and per capita that people are floating around'.
Mr J.H Mensah cautioned against assumptions that the Ghanaian economy was as liberated, as the years of recovery would have permitted.
The Sunyani East MP later told the Network Herald that the economic situation was not as bad as it was when the NPP took office in 2001.
He was confident that Ghana at its present stage did not need the dictates of donor institutions like the IMF and the World Bank for any 'rescue operations'.
He explained that moving away from the institutional support for rescue operations did not suggest that the national budget of Ghana would not be dependent on the Brenton Woods institutions.
This he said was because such institutions exist for countries to borrow from, to support budgets for development.