About 10 Communities Suffer Flooding As It Affects 2,000 Acres Of Farmlands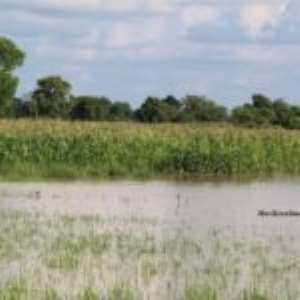 THE NATIONAL disaster management organisation (NADMO) in the Talensi District of the Upper East Region has said a total of 2,431 acres of farmlands have been flooded. This follows recent heavy rains the region has experienced.
The affected farmlands are those along the White Volta River. Speaking to this reporter on Thursday, the Talensi district NADMO Coordinator, Ken Kazar Mahama, said his outfit was conducting further assessment of the situation before submitting a comprehensive report to the regional office for onward submission to the head office in Accra.
According to him, the water level in the river was still rising and the situation could worsen in the coming days. Major crops hardly hit were maize and millet. Other crops like groundnuts and yellow millet were not also spared.
Communities such as Lungo, Yamiriga, Gari, Pwalugu, Yinduri, Wiinkogo, Balungu were among the worst hit communities and only farmers in these communities who did early planting of maize and millet could harvest some of their crops.
Mr. Kazar, however, said no casualties have been recorded because house in communities along the Whiste Volta River were on higher grounds.