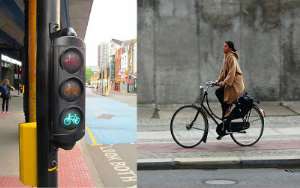 A lady on her way to work under a bicycle traffic light regulation to secure her safety. Which part of Ghana can cyclists traffic light be found?
In Ghana, vehicle drivers don't get along with cyclists. Many are always angry with cyclists because they think cyclists are impediments on the path of motorists, yet they don't know that cyclists have the same rights as motorists.
The Highway Code is an official book which gives the rules to motorists and people how to use the road safely and the advanced dictionary defines vehicle which motorists used as conveyance moving on wheels, runners, tracks, such as an automobile, or tractor.
In regards to this definition, since a bicycle has wheels, it is qualified as a vehicle to use the road like every motorist without any horn or verbal harassment.
In reality, if there is any anger, motorists have to direct that to the Ghana Highway Authority because they have failed to consider cyclists whenever constructing Ghanaian roads.
The Ghana Highway Authority has a duty to maintain to ensure the safety of road users, including pedestrians and cyclists. The adequate provision by the authority is to ensure that cyclists are safe on Ghanaian roads. However, this is not the case.

A bicycle route in Europe
Ghanaian roads are life-threatening to cyclists because the roads aren't constructed with the safety of cyclists in mind. The setback of Africa is very severe that it has affected also the roads.
Ghanaian roads are of a poor standard, with countless potholes and no light poles, making it extremely dangerous to drive in the night when travelling long distances.
Due to the fact that cyclists are safe on European roads many like to park their cars at home and use bicycles to work. Riding a bicycle helps in many ways, punctual, saves money and promotes good health.
The reason apart from cyclists sharing roads with motorists, they also have special roads and traffic lights to ensure their safety. In Antwerp, is a bicycle tunnel, built under the sea connecting the city of Antwerp and Linkeroever.
Before the tunnel is a lift which takes the cyclist below to the entrance of the tunnel to ride through. It's the most beautiful experience as cycling through the tunnel to linkeroever within few minutes whereby it may take you about twenty-five minutes to go by bus.
Every road in Europe is specially designed to give comfort to cyclists but why not Ghana when so many people are finding it difficult to join the public transport to work because of high fares?
Apart from our great leader Dr. Kwame Nkrumah, any Ghanaian leader, who will not take up the challenge to do something significant and different to develop the country, will always be considered as a child learning how to play football.

A traffic light for both cars and cyclists
There are too many insults in Ghanaian newspapers, therefore, which Ghanaian leader is ready to change these insults to praises? Both NDC and NPP want to rule Ghana but which of the parties has considered embarking on underground drainage system to improve the tourism industry?
All of them want to rule Ghana to get rich. Their struggle for power is not for the poor suffering masses. After the death of Kwame Nkrumah, the money Ghana leaders have stolen could have given the country a certain facelift to look somehow like one of the poor Eastern European countries.
As dangerous as it is to ride a bicycle in Ghana, many cyclists don't put on helmets, yet there are traffic police officers in the country.

Bicycles parked by workers near the central train station in Amsterdam
The Ghana Highway Authority must consider cyclists in their future street-projects after reading this article.