Law And Desire Are Not One And Same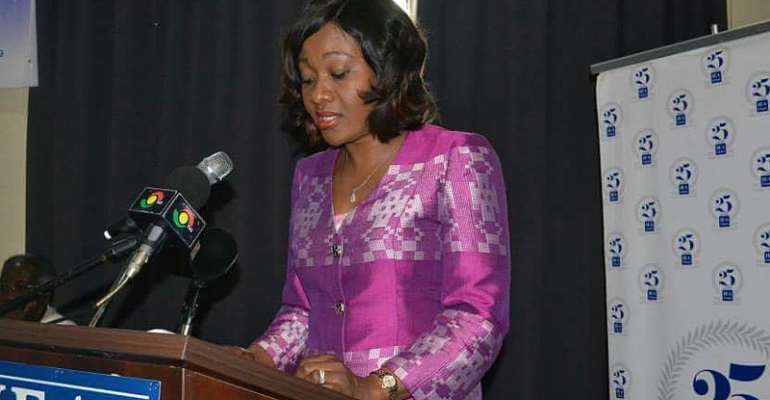 I watched the original interview on Multi-TV's Joy News Channel; there was absolutely nothing approaching what may be aptly described as a "scathing" attack or criticism by the jaded, old cynical Provisional National Defense Council's junta operative. And yet, the version of the print news report that purported to have faithfully captured the televised or electronic version on the same subject claimed, rather strangely, that Mr. John Ndebugri had pointedly scored President Addo Dankwa Akufo-Addo for daring to legitimately relieve the grossly incompetent and two-timing former Chairperson of the Electoral Commission (EC), to wit, Mrs. Charlotte Amma Kesson-Smith Osei, of her post (See "Charlotte Osei Removal Bad Precedent – Ndebugri Fears" MyJoyOnline.com / Ghanaweb.com 8/3/18).
What Mr. Ndebugriactually said was that although President Akufo-Addo was perfectly within his constitutional rights to have removed Mrs. Osei, the fact that the latter had not been permitted to finish her term in office, just as Dr. Kwadwo Afari-Gyan, before her, had been allowed to do, in of itself, made the removal of his successor "undesirable." There are, of course, several problems with this kind of irredeemably warped logic and argument or submission. For starters, even as I write, there is absolutely no clearly stated or defined term limit for the post of EC Chairperson, which was why the Rawlings-appointed Dr. Afari-Gyan, despite his equally gross professional incompetence, was able to stay at his grossly oversized post for close to 24 years.
The funny thing here, also, is that it was only after Mrs. Osei was legitimately removed from office that her staunch and fanatical supporters, largely the key operatives of the National Democratic Congress (NDC), began to huff and puff and clamor for a term limit to be imposed on the post/position of the Electoral Commission's Chairperson. Indeed, had the same political passivity, or pathological lethargy, that permitted Dr. Afari-Gyan, the former political science lecturer of the University of Ghana, to play peekaboo with the destiny of Ghanaian citizens been unwisely allowed to prevail, we could be talking about a 30-year stranglehold on our sovereignty by the opportunely ousted EC Chair. Actually, her dismissal was far too long overdue.
Maybe it is this patently corrupt culture of paralyzing passivity that Mr. Ndebugri was alluding to when he mischievously complained about it not being "desirable" for President Akufo-Addo to have removed Mrs. Osei when he did. Mr. Ndebugri clearly knows that his position on this matter is legally untenable, which is why he wistfully prefers to argue along the tacky lines of emotions rather than reason. Which, in effect, is also why this professionally trained lawyer prefers to argue on the vacuous basis of "desire" rather than the proverbial letter of the law. Indeed, in arguing on the outrageous basis of "desire," rather than statute or Constitutional Law, Mr. Ndebugri flagrantly cheapens his own legal practice as well as his own professional credibility.
That he also predicates the validity of such "desire" squarely on the fact that Mrs. Osei was appointed by a National Democratic Congress' leader, readily and effectively betrays his bias as a passionate and shameless political partisan than either an objective or dispassionate legal light or thinker. As well, when he talks about matters of "precedent," vis-à-vis his virulent opposition to the removal of Mrs. Osei from office, the clearly unstated text or direct implication here is that, somehow, only Presidents elected on the ticket of the National Democratic Congress have a magisterial right or "Manifest Destiny" to select and appoint whomever they so capriciously deem to be the most suitable Ghanaian citizen for this office.
"Manifest Destiny," for the sake of those of our readers who may not be familiar with the expression, simply means that, somehow, front-row NDC operatives like Mr. Ndebugri firmly believe that only the members of the leadership of the National Democratic Congress have been specially endowed by Divine Providence or God to keep selecting and appointing our EC Chairpersons in perpetuity. Thus, the decision by President Akufo-Addo to remove Mrs. Osei from office and replace the latter with Mrs. Jean Adukwei Mensa, the well-respected and constitutionally expert Executive-Director of the Institute of Economic Affairs (IEA), which, by the way, the same Mr. Ndebugri claims to have been legally and legitimately executed, is, nevertheless, one that leaves much to be desired, if only because the same was not executed by an NDC-sponsored leader or President.
*Visit my blog at: kwameokoampaahoofe.wordpress.com Ghanaffairs