Graduates Should Embrace And Catch Up With New Technology Trends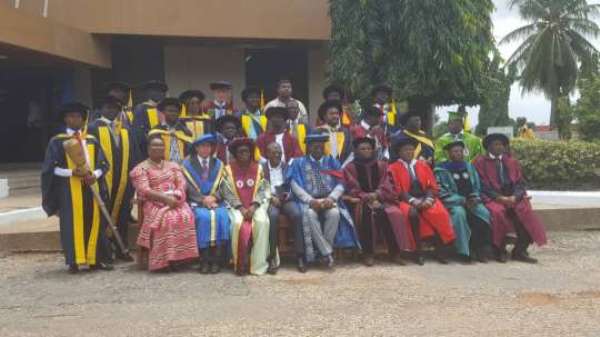 Mr Dan Amoah, Managing Director, Chase Petroleum Ghana Limited, has urged graduates of the country to embrace new technological trends.
He said the usage of Information Technology (IT) systems had gone through tremendous growth in the last decade which had accelerated processes, broadened scopes and provided apt access to education.
He noted that education in the 21st century was the centre from which all changes and developments arose; hence, IT in education had fueled this development to make education accessible in every part of the world.
Mr Amoah made the appeal on Saturday at the Ghana Technology University College's (GTUC) 20th Congregation.
The Congregation was on the theme: 'The Role of Information Technology in Tertiary Education: A Sustainable Manpower Development in Ghana'.
It marked the graduation of 612 postgraduate certificates, postgraduate and undergraduate students who pursued collaborative programmes with Coventry University, United Kingdom, CASS European School of Management Studies, France, and Anhalt University, Germany and Kwame Nkrumah University of Science and Technology.
Mr Amoah said as the demand for education grew in Africa, higher education institutions with global ambitions would be compelled to find creative, strategic and sustainable models of engagement, which adapts to the specific need of an emerging and evolving African market.
He said whiles education was a vital investment for human and economic development; it was influenced by the environment within which it existed.
This he explained had made the integration of IT an important essence for modern educational systems as it acted as an effective tool for delivery of education to its users.
He, therefore, encouraged the government and all stakeholders in the educational industry to identify targets that would re-examine the educational curriculum at all levels, thus, from pre-school to tertiary education; to integrate actively with IT.
Mr Amoah, who was the guest speaker for the occasion, said this would ensure that higher educational institutes are equipped with new technological trends and information for the training of industry-relevant graduates that are empowered.
Mr Kwaku Arthur, Acting Dean, Faculty of Engineering and an Interim Management Team (IMT) member of the GTUC, encouraged graduates to continuously aspire to improve themselves and as well build new knowledge.
He stated that the benefits of using IT in teaching were supported by research; as it was increasing the learning potential of students, empowering lecturers with engaging presentation tools and management systems as well as promoting easy accessibility participation.
Mr Arthur said in these modern times, the quest for knowledge had become easy and accessible due to the integration of IT into the educational system.
He noted that GTUC had been able to establish, build and maintain successful local and international educational partnerships that supported the quality delivery of tertiary education for its students.
Mr Arthur again challenged graduates to build their capacity to develop, organise and manage their own business ventures, provide employment for self, others and the whole nation since "the GTUC graduate is daring, creative and innovative".
Dr Emmanuel Newman, Head of Research Planning and Policy Development at the National Council for Tertiary Education (NCTE) congratulated the graduands for studiously going through their stipulated period of studies and satisfying all requirements to graduate.
He said GTUC had been keen to ensure that as graduates embarked on this remarkable journey, they would be equipped with the tools and knowledge that would enable them to succeed in the world of work.'
He, therefore, pledged on behalf of NTCE's continuous support for the development and enhancement of GTUC's philosophy of imparting knowledge and impacting our society.
'It is also our desire to see the formation of the GTUC Council and subsequently the passing of the GTU bill, which will enable Ghana Technology University to award its own degrees', he added.