Reflections On Double-Track Senior High School Alternatives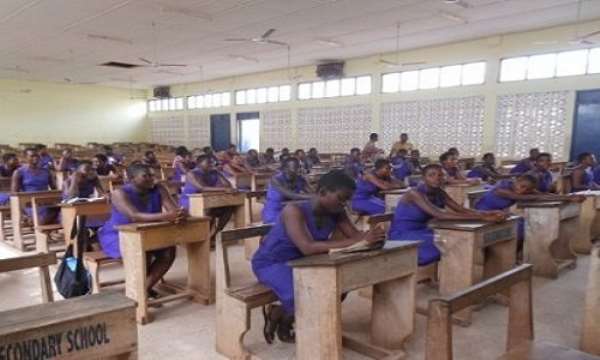 Lofty rhetoric like no child is left behind educational policy is somewhat a burst of nightmarish locution if not magniloquence. No country in the world offers high school education to every child. Imposing grammar-focused high school education on every Ghanaian child without recourse to their abilities and potentials risks arresting their rights to educational choices. In line with children's abilities, educationist implore teacher to center their teachings on three main pedagogical taxonomies namely: thinking [Cognitive], emotional or feeling [affective] and physical [psychomotor] domains. More than 18 months after the introduction of Akufo-Addo's free Senior High School [SHS] program, it appears the policy is saddled with infrastructural deficit challenge. Two Ghanaian Professors: Anamuah-Mensah and Stephen Adei recommended the Double Track SHS system as implemented in other countries to Akufo-Addo led New Patriotic Party [NPP] government. The listening NPP government is considering the recommendation.
Here are the snags of the two renowned Ghanaian professors' recommendation on Double-Track SHS system. The professors failed to tell the government whether the educational purposes or goals in the countries with the Double-Track SHS system align with Ghana's educational plan or not. Educational goals and plans differ from country to country. French thinker, Francois-Marie Arouet commonly known as Voltaire thinks originality is nothing otherwise than judicious imitation. I humbly recommend to the government and educational Minister to dispatch a team of experts to Costa Rica or Australia where Double-Track SHS policies are implemented to evaluate the level of comparison with Ghana's educational design before implementation. It is said that those who do not attend night club with their own dance but imitate others dancing moves end up spoiling their own shoes. Let us dance to the tune of our own educational music rhythm.
The professors recommended to the government without factoring West African Examination Council [WAEC] coordination and marking periods! They did not compare the durations of the foreign SHS models. United States for example practices a four year SHS education. Comparing four year high school education Double-Track policy to almost 2 and half years education in Ghana is not fathomable. Did Professor Adei and Anamuah evaluate the implications of the foregoing policy on tertiary education? It will have rippling effects on tertiary education. Therefore, the Double Track system is not a bad idea in itself, even so, it requires a thorough thought-through considerations. My president, here are my suggestions.
• Start the Double-Track system on pilot bases.
• With proper supervision, government must use spaces in private and technical/vocational schools.
• Increase enrollment in technical education. In line with Finance Minister's admission that some people must be made to pay for their kids SHS education, government can increase scholarships and bursaries in the area of technical/vocational education. This will attract more Junior High School [JSH] leavers to pursue technical education.
• Limit Free SHS to the kids of teachers, petty traders, nurses, peasant farmers, civil servants. Why must government pay school fees for the children of the state institution heads who take more salary than the president?
• Introduce more intermediate technical programs at our polytechnics and technical universities. Some JHS leavers can be admitted into polytechnic or technical universities directly contingent on the program.
• Scrap the proposed conversion of colleges of education into Degree Awarding Institutions. There is no country in the world where every post-secondary college awards degree. In the olden days, middle school leavers attend 4 year teacher training college. Some of these teachers were very terrific! Some of these JHS leavers can pursue four year certificate in teaching for the primary level!
• Headmasters must be entreated to provide proof of citizenship of their students to discourage foreigners from taking advantage of the system.
• Hospitals need ward assistants, Nursing training colleges must run two year certificate programs on patient care assistance. It is possible that No bed syndromes could be due to shortage of staff. Pass legislations to make sure all hospitals private or government employ patient care assistants.
• Those who don't get SHS education could be made to write alternative college entrance examinations. In USA, students without High School Diploma [equivalent to SSCE] have chances to write General Equivalency Diploma [GED] for college education.
• Government needs to introduce short courses in Cocoa/Cashew planting technology to assist farmers. Ghana was a leading Cocoa producer in the world in 1911. What happened to the industry? Government can go into cocoa farming to replenish the annual shortage in metric tons. Some JHS leavers could learn cocoa technology short courses to advice cocoa farmers or engage in farming.
• Improve teacher motivation.
Thus, Mr. President, the above are my alternatives to the thoroughgoing debate on SHS education. God bless our homeland Ghana.
Nana Yaw Osei, Minnesota, USA