I Welcome Criticisms - Anas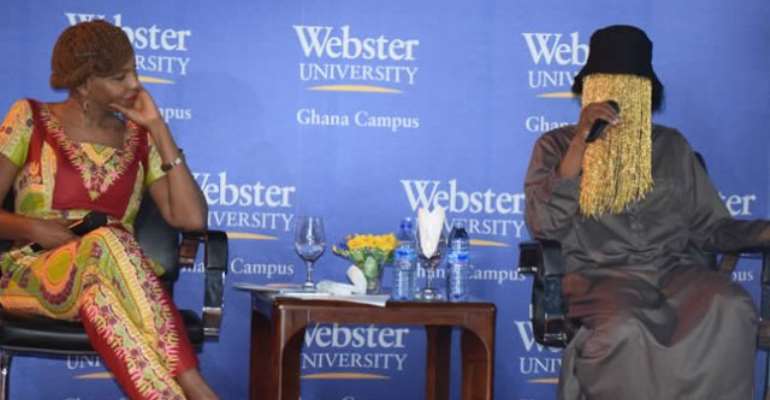 Ace investigative journalist Anas Aremeyaw Anas has welcomed the vehement criticism against him and his #12 investigative piece on Ghana football.
He says it is only through constructive criticisms that he can get better and better on his investigative career.
He was speaking at a media summit organized by Webster University Ghana in collaboration with EAA Productions.
The summit was under the theme: "ReImagineGH2018: stories, standards and struggle ."
The media summit was to explore the future of investigative journalism in Ghana, the role it plays in Ghanaian/African society and how educational institutions such as Webster University Ghana could contribute to the development of investigative journalists through the offering of the Media Communications program.
An undercover investigative journalist of international acclaim, Anas Aremeyaw Anas has exposed corruption and human right abuses across sub-Saharan Africa and Europe in collaboration with international news organizations like Al Jazeera and the BBC.
Some of his most notable investigations include the murder of albinos in Tanzania for rituals, the exposure of a human trafficking ring spanning five countries in Africa and Europe and his most recent investigation of widespread corruption and match-fixing in Ghana/Africa football which has resulted in the dismissal of several high ranking football officials.
In Ghana, the #12 investigative piece has led to the banning of Ghana's football president Kwesi Nyantakyi with the future of some 77 referees and some other officials still hanging in the balance.
His latest work is not without criticism though with one of Ghana's MPs, Kennedy Agyepong, whose name came up in the video of the investigative piece, leading the crusade of criticism against Anas Aremeyaw Yaw.
But Anas Aremeyaw Anas is unfazed by the criticism. He told the attendees of the summit he is better off with the criticisms.
He had earlier on walked into the auditorium in a gown and his trademark mask flanked by a number of security personnel.
The investigative journalist walked the audience through the process of conducting investigations, the rigorous process of guaranteeing his work would stand legal scrutiny as well as security measures to ensure his own safety. According to Anas, he welcomes scrutiny of his work and sees it as a way to guarantee his work stands the test of time.
The summit was attended by journalists, media owners, Media Communications faculty members of several institutions as well as students and members of the community at large.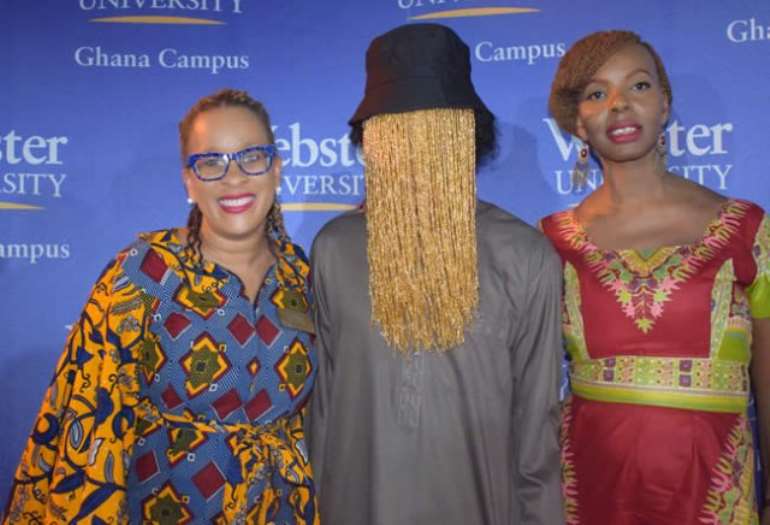 In her address at the summit, the Campus Director of Webster University Ghana, Christa Sanders said hosting such an event was in line with Webster University Ghana's desire to provide a platform for intellectual discussion and provided a unique opportunity to debate investigative journalism with one of the most renowned investigative journalists of the African continent.
She added that as an institution, Webster University's Media Communication programe is designed to equip students with the necessary skills to effectively design and execute their own journalistic investigations.
She expressed the hope that the media summit would lead to a deeper understanding of the practice of investigative journalism and inspire even more students to consider the profession.
"We are incredibly honored to have Anas Aremeyaw Anas and Adjunct Lecturer, Esther Armah center stage tonight and we thank them for allowing us to be part of this important platform as we train our students on what it really means to be a 'game changer' and to make a true difference in society through the lens of the journalism profession," she said.
Professor Esther Armah, who served as moderator of the media summit, presented a comprehensive history of investigative journalism, its industry, how it functions, where it fails and how it can and must strengthened for its future.