Construction Of Access Roads And Drains Is Far Advanced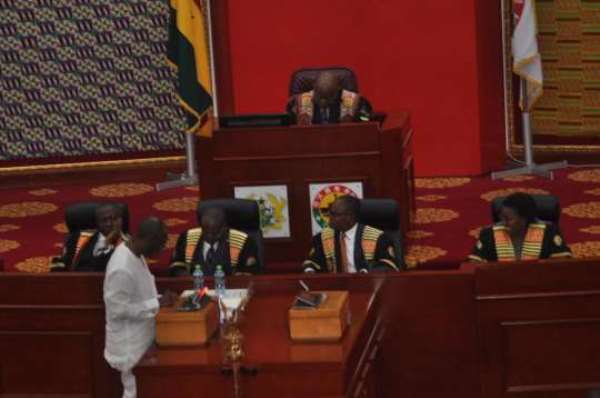 Mr Ken Ofori Attah, the Minister of Finance, has announced that preparatory works towards the construction of five kilometres of access roads and 16 kilometres of tertiary drains nationwide are far advanced to help promote economic and social development in the Zongo and Inner-Cities.
The Minister, speaking at the 2018 mid-year budget review in Accra, said that became necessary after the passage of the Zongo Development Fund Act 2017, Act 964, which contains a policy brief and draft Legislative Instrument.
He said: 'to this end government has embarked on a number of projects which include: two kilometres out of a target of 10kms of tertiary and secondary drains dredged/desilted; procurement works for the construction of 18 mechanized Small Town Water Systems, out of a target of 20'.
The rests he said, were business development training for 150 selected existing businesses, rehabilitation of 22 schools and the construction of 10 school toilet facilities, organization of eight ethno-religious seminars in Inner-City and Zongo communities and the construction of three Astro turf football pitches at La Nkwantanang, Walewale and Kibi, as well as eight community recreational parks.
Mr Ofori-Attah also stated that government had provided 100 million dollars for the National Entrepreneurship Programme (NEIP) with the seed capital of 10 million dollars to be leveraged to raise money from private sources and public organisations had also been set up.
This he said would support young entrepreneurs to grow their businesses and reduce unemployment, which was a major challenge faced in the country.
He said the first phase of the Greenhouse Estate project under NEIP, which involves the installation of 75 units of Greenhouses for vegetable cultivation was almost completed.
He stated that though the plan was to build 1,000 across the 10 regions in the medium term, each Greenhouse unit would employ 10 people on the average.
'An expected 10,000 direct and over 30,000 indirect jobs along the value chain will be created. Upon completion of the project, about 60,000 tonnes of vegetables is expected to be produced per annum to generate approximately GH150 million revenue on an annual basis to the nation' he stated.