Turkey's Director General Of Africa, Ministry Of Foreign Affairs Signs Book Of Condolence For Amissah-Arthur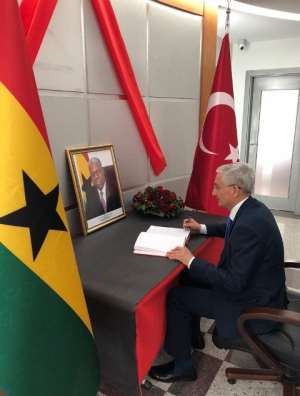 Mr Reza Demirer, the Director General of Africa, Ministry of Foreign Affairs, Turkey, has signed a book of condolence opened in memory of late former Vice President Paa Kwesi Bekoe Amissah-Arthur at Ghana's Embassy in Ankara.
A statement issued by the Ghana Embassy in Ankara and copied to the Ghana News Agency said Mr Demirer signed the book of condolence, when he paid a courtesy call on Mrs Salma Frances Mancell-Egala, Ghana's Ambassador to Turkey.
Late former Vice President Amissah-Arthur, died on Friday, July 29, at the age of 67.
According to the family of the late former Vice President, he would be buried on Friday, July 27, his family.
The date was fixed following consultations with the government.
In line with the funeral arrangements, there is going to be no wake.
The body would lie in state at the Main Hall of the Accra International Conference Centre for people to pay their last respects between the hours of 0500 hours and 0900 hours.
This would be followed by a burial service from 0900 to midday at the same venue.