Muslims In Effutu Grateful To Allah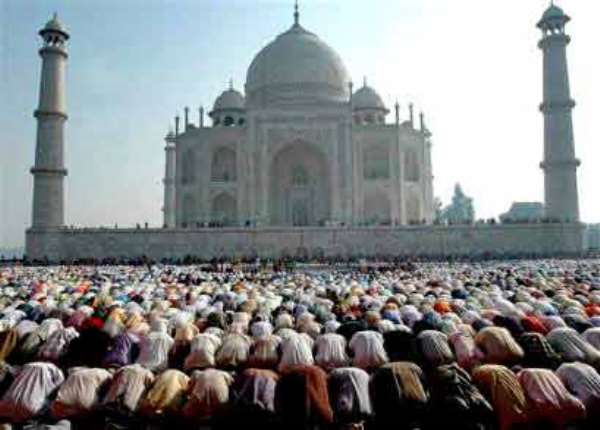 Alhaji Mohammed Monssuru Issah, Chief Imam of Effutu Municipality has called on Muslims in the area to let the blessings and grace they received during the Ramadan period reflect on their dally life for society to benefit.
Alhaji Issah made the call when he led worshipers at their annual prayer grounds in Winneba to express their gratitude and thanks to Almighty Allah for his protection and guidance from the beginning of their 30 days fasting to the end.
According to him, the Ramadan was one of the five pillars of Islam, and was their obligation after the period to assembly before Allah as a unified body to receive reward from him for successful fasting and to commemorate the Eid Ul-Fitr.
'Let us utilise the tuition we received during the period to contribute our quota where ever we may be in the society,' he added.
Prayers were said for the President, Cabinet and Ministers of the state, Members of Parliament, for peace and tranquillity to prevail in Effutuman and the country as a whole.
Mr Alexzander Afenyo-Markin, Member of Parliament for Effutu, who was accompanied by the Municipal Chief Executive for the area and other Executive Members of the NPP in the area joined them in their prayer, thanked Allah for keeping them safely during their 30 days journey.
He entreated them to exercise patience in all their endeavours saying patience led to success and as the MP for the area, he would do his best to help members of the Zongo communities in the Municipality to better their lot.
'I hope the fasting and the prayers you said during this period will bring total peace and unity to Effutuman to forge ahead as people to develop and make the area conducive for tourists and investors.'
He announced that September, this year he would launch education trust fund under the name 'Sarechie (Chief) Salagah Educational Endowment Fund' to solely cater for children in the Zongo communities in the area.
The MP emphasised the need for parents to advise and encourage their children to take their education seriously to enable them to benefit from the fund to further their education.
He also advised the youth to respect the elderly, shun peer pressures and to eschew all negative tendencies that would undermine development.
GNA