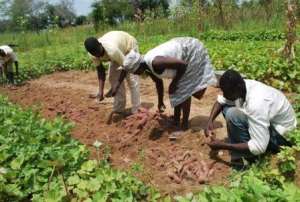 Traditional authorities in Lambussie District of Upper West Region are working closely with landlords and persuading husbands to release productive lands for women farmers in various communities of the District.
The collaborative efforts with the landowners seek to help women into farming to secure parcels of land for agricultural activities to increase food crop production and enhance their income for improved livelihoods.
Naa Wilfred Dapillah, the Chief of Sentu, told the Ghana News Agency (GNA) after a two-day workshop on 'District Level Experience Sharing of the Household Economic Security for Poor Women (HESP) Project' at Piina.
He said efforts by several women farmers in the communities to go into food crop production had been thwarted due to lack of access to productive farm lands, a development that kill women interest in the occupation.
Traditional authorities, he said, were now advocating the release of productive farm lands to women farmers because the practice had slowed down the socio-economic progress and prosperity of women.
The refusal of landlords and husbands to provide productive farm lands to women farmers impeded production and worsened poverty among locals.
The Chief lauded the HESP project, which is said to have contributed to economic security of women smallholder farmers and their households following rise in productivity and access to land, inputs and markets.
'Men are now benefiting from their women farmers with some of them paying medical bills and school fees of their children while others also supplement the feeding of the entire family,' he said.
Before the implementation of the project, women farmers were denied farm lands while in some communities, men forcibly took away lands from women who managed to secure and invest in lands.
'There is improvement, some farmers from other districts in the region are now coming to learn from us, the modern farming methods and practices we have acquired from the project to improve food crop production,' he added.
An Agronomist at the Savannah Agricultural Research Institute (SARI)), Mr Asieku Yahaya, disclosed that soil fertility research conducted on lands in the Lambussie District proved the lands were poor in nutrients.
While appealing to farmers to use chemical fertilizers in moderation, he also appealed to government to provide the farmers with organic fertilizers to help replenish the soil for enhanced food production.
He told farmers to buy inputs, especially fertilizers from approved companies and agencies or certified input dealers.
An Assistant Director at the Lambussie District Assembly said the assembly was more responsive to gender issues, especially in agriculture and infrastructure.
The assembly would continue to help sustain the capacities and skills that the project had provided to the farmers to improve incomes among women farmers, Mr Iddrisu Safianu said.
A widow farmer, Madam Tawieh Ama, who benefited from the project, claimed women farmers were getting more farm yields than men and were no longer depended on their husbands as was done in the past.
Beneficiaries reported that the project has helped to demystify traditional beliefs and practices, making men now releasing lands to women to for large scale food crop production.
'I am a widow, but I do not depend on my husband's brothers to feed. I am able to take care of my children and so help my husband's brothers when the needs arises,' Ama said.
Care International - Ghana project: 'Household Economic Security for Poor Smallholder Women Farmers,' seeks to improve the economic security of poor women smallholder farmers and their households.
The project targeted 3,000 women smallholder farmers in the Lambussie and Garu-Tempane Districts, but indirectly, 18,000 household members have benefited from the scheme.
The outcome of the project is to increase agricultural productivity for smallholder women farmers through improved and sustainable farming methods and increased access to productive resources.
The 'Big Lottery Fund' is funding the project and it spans from 2015 to 2018. It is expected to increase household income of smallholder women farmers and entrepreneurs through effective engagement in economic opportunities along the soy and groundnut value chain.
The Partnership for Rural Development Action (PRUDA) is implementing the project in 19 communities in the Lambussie District, mobilised 1148 farmers comprising 985 females and 163 males from 46 Village Saving Loans Associations to produce soybean and groundnuts.