Veep's Dealing Under FBI Investigation?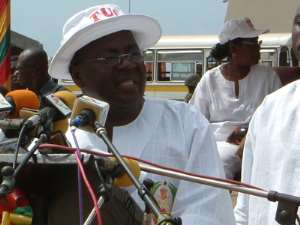 ... U.S Rep's dealings with Ghana & Nigeria being investigated ... Feds raided home of Nigerian Veep WASHINGTON -- On the same day that federal agents executed search warrants on the New Orleans and Washington, D.C., homes of U.S. Rep. William Jefferson, the FBI also raided the Maryland residence of Nigeria's vice president, seeking evidence of possible payments to officials in that African nation. A State Department official confirmed the Aug. 3 search of the Potomac, Md., home of Nigerian Vice President Atiku Abubakar and his wife, Jennifer. The agency referred all questions about the raid to the Justice Department, which declined to comment. A source familiar with the investigation said subpoenas show agents were looking for records showing whether Jefferson, D-New Orleans, paid, offered to pay or authorized payments to officials in the government of Nigeria or Ghana. The subpoenas, described to The Times-Picayune, seek documents related to Jefferson's dealings with Abubakar and the vice president of Ghana, Alhaji Aliu Mahama. Jefferson returned from a five-day visit to Ghana in mid-July, about three weeks before the FBI raided his homes. The subpoenas focus in part on a telecommunications deal Jefferson was trying to engineer in Nigeria over the past year, according to documents and those familiar with details of the investigation. Jefferson spokeswoman Melanie Roussell said the eight-term congressman would continue to decline comment on the federal probe. He has only said that he is cooperating with federal investigators. It's not clear how Vice President Abubakar or his wife, a doctoral student at American University in Washington, might be connected to the telecommunications deal. A staffer at the Washington-based AIDS foundation set up by Jennifer Abubakar said the couple are in Nigeria. Efforts to reach them and the vice president of Ghana for comment were unsuccessful. Jefferson's attorney, Mike Fawer, has said he believes the FBI had been conducting a sting operation against his client. Quoting anonymous law enforcement sources, The Washington Post reported that the operation had been in the works for a year and was investigating whether Jefferson pocketed hundreds of thousands of dollars from business deals. The Post reported that agents found a large amount of cash in Jefferson's freezer. Experts said that the U.S. Justice Department has been increasingly focused in recent years on prosecuting cases under the 1977 Foreign Corrupt Practices Act, which bars corporations or their agents from paying, offering to pay or authorizing payment of money or anything of value to further their business interests abroad. Sources familiar with the telecommunications deal said that Jefferson was attempting to smooth the way for iGate Corp., a small Kentucky company, to introduce its high-speed broadband technology to Nigeria's fast-growing telecommunications market. Rare move Legal experts said it is unusual, if not unprecedented, for FBI agents to raid the home of an elected official from a foreign nation. Foreign diplomats normally are given immunity from prosecution. There have been some well-publicized cases in which American prosecutors have been unable to pursue allegations of wrongdoing against diplomats, ranging from failure to pay traffic tickets to alleged sexual assaults. "Sometimes diplomatic immunity can be used as a shield from prosecution, but not as a shield from investigation," said Mariano-Florentino Cuellar, an associate professor of international law at Stanford University. But the law isn't so straightforward for visiting foreign elected officials. Usually, officials request and are given immunity covering the time periods of their visits to the United States. Immunity, however, likely would not be given to an official, even a sitting vice president, for a private residence within the United States, especially if he wasn't present at the time the material listed in the warrant was being sought, according to an official familiar with State Department guidelines on the subject. The official said it is almost certain that the search got the approval of top Justice and State Department officials given the "possible effect on foreign relations" of such a search.
A neighbor said that Abubakar doesn't use the Potomac home more than a couple of months a year. The sprawling colonial is in one of the Washington area's most exclusive communities.