Judge Threatens MP With Contempt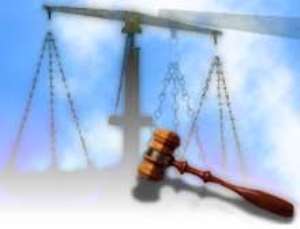 A Cape Coast High Court,presided over by Mr Justice K. K. Acquaye,has cautioned the Member of Parliament(MP) for Asikuma-Odoben-Brakwa,to desist from making any comment on the case about the nomination of Mr Emmanuel Adjei Domson as the District Chief Executive (DCE), which is pending before it or be cited for contempt.
Mr Justice Acquaye said since such pronouncements were highly prejudicial to the case,he would not take kindly to them.
Said Mr Justice Acquaye: "Tell the MP that I am the type of judge who does not like that rubbish. I don't care whether he is an MP or not, he will be cited for contempt and will not be spared,if he flouts the court order."
"If he conducts himself in a politically undesirable way, I don't care which side of the spectrum he belongs, he will not be spared."
He gave the caution following a complaint by the counsel for the plaintiffs, Mr Burton Oduro, that the MP had stated on Adom FM a Tema-based radio station on Monday, that the matter had been settled and that fresh election would be held on Tuesday.
Mr Oduro drew the court's attention to the fact that such pronouncements tended to heighten tension in the area.
However, counsel for the defendants,Mr Halifax Hayford insisted that the MP made the comments after judgement had been obtained in a previous case.
Five members of the Asikuma-Odoben-Brakwa District Assembly have filed an interlocutory injunction at the High Court seeking to restrain Mr Domson,the Electoral Officer and the Presiding Member of the assembly from enforcing an earlier judgement it obtained in their favour for fresh election for a DCE.
It will be recalled that Mr Domson filed a motion at the High Court to nullify the results of the elections which failed to approve his nomination as the DCE and which judgement was given in his favour.
The five assembly members, namely Phyllis Nyarko, Francis Anane Otchere,Kojo Atta, Anthony Kwabena Amoako and Matthew Asante,challenged the judgement on the grounds that it was fraudulent because they had filed a counter motion to challenge the appeal by Mr Domson seeking to set aside the results of the election.
Asikuma-Odoben-Brakwa is currently the only district in the Central Region without a DCE.