March 13, 2018
|
News Regional News
B/A EPA Educates Fuel Retailers On Safety Management Systems
Nana Antwi Boasiako-Ahomka 90.5FM,Sunyani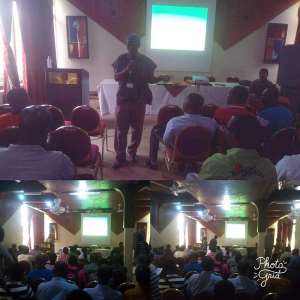 The Brong-Ahafo Regional Directorate of the Environmental Protection Agency (EPA) has organised a day's training workshop on safety management for fuel retailers in the Region.
The program which took place at Regent Resort Hotel in Sunyani was attended by over 100 participants,aimed at helping them to put in place appropriate mechanisms prevent fire outbreaks and other hazards.
Dr. Francis Nyagbenu, the Brong Ahafo Regional Director-EPA, in an interview with Ahomka 90.5FM-Sunyani,after the workshop said, "in a bid to forestall the frequent fuel stations in the country, 'that is why we held this workshop to upgrade the knowledge and skills of those who operates in fuel stations in other not to witness June 3 disaster again".
"After the June 3 disaster,new rules for operation was developed so we took the participants through the rules" he stated.
He said fire outbreaks at fuel stations are a fatal experience and urged the owners of the fuel stations to take what they have learnt seriously.
Among the topics discussed were Environmental Protection Agency (EPA) operational legal requirements for filling stations, operational hazards management at petrol,safety management systems and emergency reporting procedures.
Briefing the participants on the new rules Dr. Nyagbenu, said Fuel stations seeking permits to operate must now be sited 500 metres away from each other, "this is to help reduce the influx of fuel stations in the country as well as minimise impact of risk to residents and the environment in case of unexpected accidents".
Dr. Francis Nyagbenu, said the EPA had only issued permit after it was convinced that such venture would not create any environmental risk to the people, and that, all other relevant stakeholders had approved of the location of such projects.
"By law, any undertaking that has impact on the environment must register with the EPA for permit after complying with all guidelines," he said.
He urged the participants to make daily inspection of their materials and equipment to ensure that they are in appropriate conditions and advised the participants to guard against going contrary to the EPA operational legal requirements.