Meet Emmanuel Tabiri: The New Chapter Secretary For NPP-PA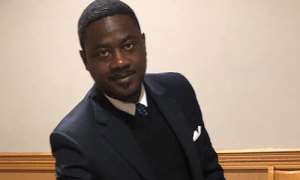 Emmanuel Tabiri has always been a creative soul. As a child, he loved to draw everything and anything. It was not until his father, Joseph, and his uncles, Paul and Barth, introduced him to commercial art/advertising/marketing that he knew he could turn his passion into his career.
Mr. Tabiri studied Communication Design at Kutztown University of Pennsylvania, USA. In addition to his studies, Kutztown University provided many opportunities for him to practice his craft while he was still a student. Mr. Tabiri worked as a Student Graphic Designer/Webmaster in the Information Technology Department of the University. As part of the team responsible for the management of the University's website, his responsibilities included the creation and execution of templates, and troubleshooting and maintenance of the website. Mr. Tabiri also worked as the Information Architect for the International Students Association at the university. He directed the development of web solutions, and was responsible for creating intuitive information hierarchies and effective user interfaces for the association's web sites and information systems.
Mr. Tabiri's professional career includes years experience working as a Graphic Designer, Email Coder, Interactive Designer, Search Engine Optimization (SEO) Expert, Information Architect, and User Experience (UX/UI) Designer/Developer. Emmanuel Tabiri is very patriotic and has a deep passion and concern for his country. Mr. Tabiri is most excited for his new role as NPP Philadelphia Chapter Secretary; he views this as a wonderful opportunity to use his professional talents to serve his country.