Christian Health Association Working To Reduce Maternal Mortality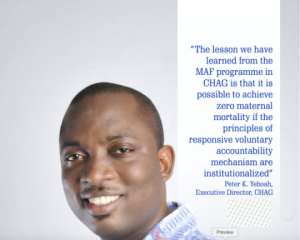 The annual institutional Maternal Mortality Rate declined by 25 per cent in the Christian Health Association of Ghana (CHAG) facilities from 145 maternal deaths per 100,000 live births in 2015, to 109 per 100,000 live births in 2016.
In the same period, supervised deliveries also increased by 24 per cent with 136,669 deliveries in 2016 compared to 110,228 in 2015.
Mr Peter Yeboah, Chief Executive Officer CHAG, who disclosed this in an interview with the Ghana News Agency in Accra, on Monday, said there was, however, a marginal reduction of 4.8 per cent in stillbirth rate with 20 per 1,000 in 2016 compared to 21 per 1,000 live births in 2015.
He remarked that while maternal mortality improved, neonatal mortality rate worsened from 6.5 per 1,000 live births in 2015 to 13 per 1,000 live births in 2016.
Mr Yeboah said the general improvement recorded within the CHAG health facilities in the country could be attributed to a programme dubbed 'the 100 Days Free Maternal Mortality Campaign' introduced under the Millennium Accelerated Framework (MAF).
The MAF is an initiative put together by development partners in collaboration with the Ministry of Health, Ghana Health Service and other health sector players in 2015. It also provided funds and technical support to improve the coverage of skilled attendance during pregnancy childbirth and the postnatal period.
It also had the objective to improve coverage of family planning services, including availability and usage as well as increase accessibility to emergency obstetric and Neonatal Care.
The Executive Director noted that, 'the lesson we learned from the MAF programme in CHAG was that it was possible to achieve zero maternal mortality if the principles of responsive voluntary accountability mechanisms are institutionalized.
Dr. James Duah, Deputy Director of CHAG, explained that during the campaign, which was funded by the European Union and DANNIDA, all hospitals within the CHAG network, aimed at recording zero maternal mortality in 100 days.
He said the various institutions under CHAG were grouped into four zones and each facility within the zone identified causes of maternal deaths in its community as well as proposed interventions on how to address these challenges.
'Each team designed a plan based on the causes and suggested intervention. Within our network, we assigned 23 obstetricians and gynaecologists to visit various facilities within 100 days and observe what they do and to offer assistance in all forms, including training.
'After each 100-day period, all the team members and the obstetricians and gynaecologists meet and assess the targets and the success and challenges each facility encountered. Members briefed the team if they recorded maternal deaths, what happened and if no death was recorded what was the success stories that can be built on,' he said.
Dr Duah, who led the innovation noted that, about 355 health professionals had access to knowledge and skill to help manage difficult maternal health issues, while obstetricians, gynaecologists and midwives were also mentored.
He said there was the need to build on the gains made through the programme to further reduce maternal mortality and neonatal deaths.
GNA
By Yaw Ansah, GNA