Abubakar Abadulai Eyes the NPP-USA National Treasurer Position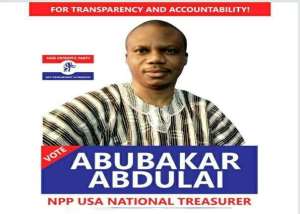 Abubakar Abdulai (a.k.a. Abu) has declared his intention to run for the position of the NPP-USA National Treasurer.
The State University of New York (SUNY)-trained Financial Economist, with a solid experience in Banking, will be among those who will be on the ballot for the upcoming NPP-USA Branch elections seeking to be elected as the National Treasurer.
The National Treasurer aspirant was born in Sakogu, a farming community in the Mamprusi District in the Northern Region where he had his early education. He had his secondary education at the Presbyterian Boys' Senior High School and graduated with a distinction, a feat that has opened many opportunities for him.
Mr. Abdulai gained admission to the University of Ghana to study Economics. He graduated with a Bachelor of Arts degree in Economics in 2004.
After his undergraduate education in Ghana, the ambitious National Treasurer aspirant began looking for opportunities to further his academic career abroad. Consequently, he was granted admission to pursue a Master of Science degree in Financial Economics in the prestigious SUNY where he graduated in 2009.
Profession & Experience
The New York-based banker currently works for JPMorgan Chase Bank, a leading global financial services and investment firm that boasts a net asset worth $2.4 trillion with operations in over 100 countries. He has over nine years of banking experience on his resume.
By his quest to occupy the National Treasurer position, Mr. Abdulai wants to place his wealth of experience in money matters at the disposal of his party, to harness financial resources for the effective administration of the party.
The National Treasurer aspirant has a remarkable experience in fundraising and logistics mobilization for the party. He has been very instrumental in these fields as far as his work with the NPP is concerned.
As a member of the program's Finance Committee, he played an important role in raising funds for a successful maiden NPP International Youth Conference held in New York in 2015 through his professional network. The program was used as a Launchpad to galvanize the support of the youth that culminated in the eventual election of Nana Addo Dankwa Akufo-Addo and Dr. Mahamudu Bawumia as president and vice president respectively.
It is imperative to mention that Mr. Abubakar has used and is willing to use his expertise in money matters to impact all his associations. He was appointed the Financial Secretary of the USA branch of NASARA, a position he has held since 2014.
He worked with the branch to raise funds and logistics such as T-Shirts and party paraphernalia to support its adopted Tamale Central Constituency to help elect Dr. Ibrahim Aryas as MP in the 2016.
Mr. Abubakar's role as Deputy Diaspora Mobilization Coordinator for New York testifies of his mobilization skills, given that the success story of the NPP victory in the 2016 election was underpinned by the role of its diaspora branches.
Political Experience
Mr. Abdulai has demonstrated a great loyalty to the NPP since he joined the party in 2000 in his freshman year at the University of Ghana. Since then he has developed a keen interest in party politics, which has attracted him to some party stalwarts. He has worked closely with the Acting Chairperson of NPP-USA, Obaa Yaa Frimpong; NPP-USA National Organizer, Mr. Kwame Agyeman-Budu; and NPP-New York Chairman, Dr. Akwasi Acheampong.
It is equally worth noting that the National Treasurer aspirant is firmly-rooted on the ground when it comes to party work. His contribution to the party is not limited to the diaspora, but extends to his home constituency, East Mamprusi District, because he believes in the mantra that all politics is local. And to give more meaning to his belief in party work, he volunteered to be an Electoral Commission's Elections Observer in the Tamale Central Constituency during the 2016 elections.
In summary, Mr. Abdulai brings to the table his wealth of experience in banking and finance and the zeal to see the bright future of the NPP and government. He has the wherewithal to access the most modern financial tools to help NPP-USA raise the needed funds for the next several elections.
Vote Abubakar Abdulai as your next NPP-USA National Treasurer position for Transparency and Accountability.