Bawumia Bounces Back After Medical Leave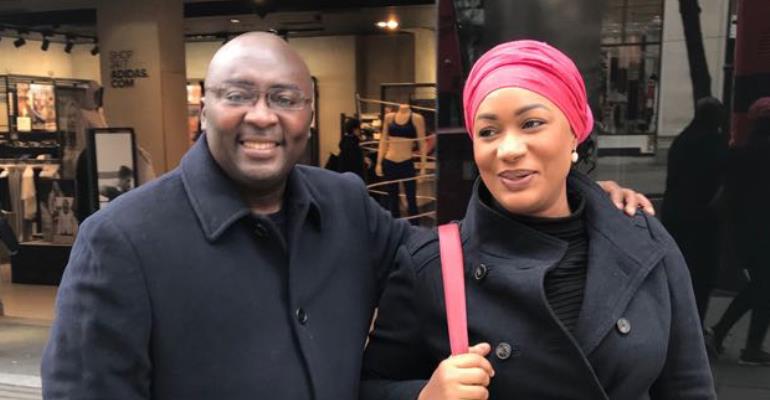 Vice President Dr Mahamudu Bawumia returned home from London last night after taking time off his busy schedule to seek medical attention.
He arrived in Ghana in the company of his wife, Samira Bawumia, on board a British Airways commercial airline at the Kotoka International Airport (KIA) where they were met on arrival by President Akufo-Addo and his spouse, Rebecca Akufo-Addo.
A statement issued earlier in the day and signed by Director of Communications at the presidency, Eugene Arhin, did not give details about the arrival, with no time and airline, thereby keeping some Ghanaians guessing what time and aircraft he would use.
"The Vice President of the Republic, Alhaji Dr. Mahamudu Bawumia, will return to Ghana from the United Kingdom on Thursday, 1st February, 2018. This is after he took a 12-day medical leave, on the advice of his doctors," the statement indicated.
There was confusion over the exact date and time the vice president was supposed to return home, after initial speculations about his health were shot down with the release of a short video and accompanying pictures of he and his wife taking a stroll down the streets of London sometime last week.
It came as a sigh of relief to most Ghanaians, who had become apprehensive about the wild rumours by opposition elements to create the impression that the second gentleman of the had been knocked down by a mild stroke, with others even going to the extent of faking a confidential inquest pronouncing him dead.
Ghanaians were, therefore, anxious of his arrival, with the government trying to avoid a spectacle at the airport like that which heralded the late President Mills' arrival from abroad after undergoing medical treatment.
This time round, the usual pomp and pageantry that usually features prominently on such occasions was absent.
Instead, Dr Bawumia was ushered into a waiting vehicle, which drove him to the Jubilee Lounge (VVIP section) of the airport, where he had a tet-a-tet with President Akufo-Addo and later went home.
The vice president, is however, expected to resume work soon, with his doctors having declared him fit.
By Charles Takyi-Boadu, Presidential Correspondent