January 3, 2018
|
Diaspora Diaspora (USA)
Ghanaians Perish In New York Fire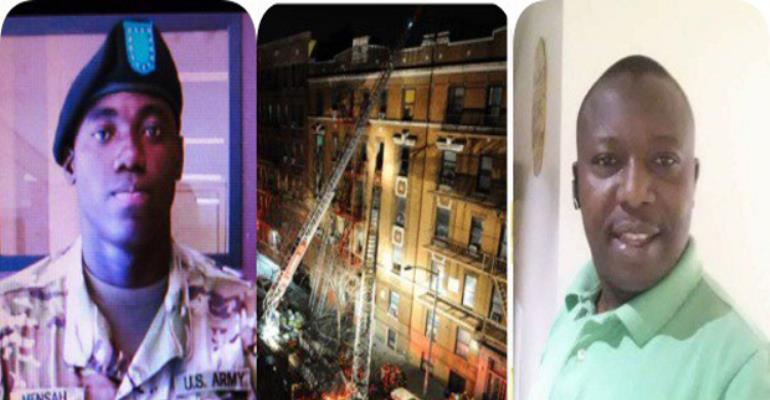 Six Ghanaians, including a family of three, were killed in the fire that hit New York suburb of Bronx, claiming the lives of at least 12 people.
Solomon Donkor, 49, his 17-old-daughter Hannah Adoma Donkor and his 12-year-old son, William Donkor, were found dead in Apartment 19.
A soldier, Emmanuel Mensah, 28; a soldier in the US Army, Gabriel Yaw Sarkordie, 48 and Justice Opoku, 54, were the other Ghanaians who perished in the fire.
The deaths have left the Ghanaian community in New York devastated.
A three-year-old boy's screams alerted his mother that fire had erupted in their first-floor apartment in Bronx Thursday night.
The boy had been playing with the burners on the kitchen stove, New York fire officials said.
When the mother fled the burning apartment with the boy and his 2-year-old sibling, she reportedly made a fatal mistake by leaving the apartment door open.
The tragic result was the deaths of at least 12 people, including about four children, the New York Police Department said.
The soldier, Emmanuel Mensah, who was on holidays for the first time a year after enlisting in the army, was rescuing people from the apartment when he lost his life.
"He's a kind person and he was trying to help people out," Kwabena Mensah, the victim's father, told the New York Post.
"And I think that's what he was trying to do, and unfortunately he lost his life trying to do that," he added.
President Akufo-Addo tweeted Sunday to commiserate with the families of those who lost their lives in the inferno, stating that the government, through its mission in Washington, was going to the aid of the families.
"My deepest condolences to the families of the Ghanaian nationals who tragically lost their lives in Saturday's Bronx apartment fire disaster in New York. Government, through our Mission in Washington, is coming to the aid of the affected families. May their souls rest in peace!" he tweeted.
Meanwhile, the Mayor of New York City, Bill de Blasio, has eulogised Emmanuel, who had just finished basic training in Georgia and was scheduled to move to Virginia.
"Private Emmanuel Mensah was a first generation immigrant, a soldier, and a New Yorker. He gave his life rescuing his neighbors in the Bronx fire. His heroism exemplifies the best of our city. Rest in peace," Bill de Blasio stated in a tweet on Saturday.