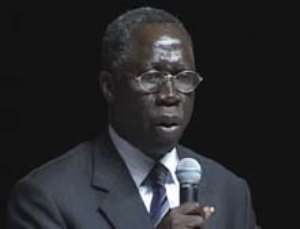 A total of ¢113 billion has been released to all district assemblies for the payment of levies for children in public basic schools throughout the country.
Under the policy, known as capitation grant, the government will pay ¢30,000 per child in lieu of sports, internal development, guidance and counselling, library, parent-teacher association (PTA), culture, health among other levies for the next academic year.
The Minister for Education and Sports, Mr Yaw Osafo-Maafo, who disclosed this to the Graphic in Accra yesterday, directed school authorities not to demand any fee from children when schools resumed in September, adding that any head of a public school found charging fees would be sanctioned.
The minister announced the abolition of fees in basic schools throughout the country a couple of weeks ago when he visited some basic schools in the Accra metropolis.
He said the decision was part of the government's effort to make education free and available to all children of school-going age.
Mr Osafo-Maafo said currently the capitation grant policy was being experimented in 53 deprived districts in the country. The minister also announced that the ministry had placed an order for the purchase of textbooks for all basic schools which would enable each schoolchild to have a textbook to himself from September this year.
He said the ministry would give priority attention to schools in which there were physically-and mentally-challenged pupils. Mr Osafo-Maafo said as a first step, the ministry was considering a special incentive package for teachers and workers in such schools.
The minister said three special schools, the School for the Blind,Akropong,the Sekondi Twin City School for the Deaf and the Special School for the Intellectually Challenged, have received buses to facilitate the movement of the children.
He appealed to corporate bodies and non-governmental organisations (NGOs)to invest in the education of the youth, particularly the physically-challenged.