Ghanafest 2005 In Chicago - Historical & Entertaining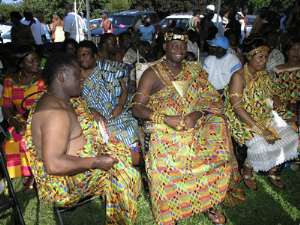 ellow Ghanaians, Africans and friends of Ghana, pack your baggage and plan your summer trip to Chicago on July 30 2005, because something big is happening at Washington Park, 5600 and Payne drive, one block West of Cottage Grove. Welcome to the largest African Cultural Exposition of its kind in North America. It is at your very doorsteps in Chicago.
The original Ghanafest ?Chicago, is upon us again and this year the organizers have lined up their program with eye pleasing, entertaining, exciting and fabulous cultural shows that is better seen than described.
Mr. CNN and Ghanaweb as usual will be there to bring the program to the world on the internet. Dondoweb/Dondo Magazine, The Ghanaian Times will all be there. ABN Network will broadcast the show to 42 states on their prime wireless Television network.
Ghanafest-Chicago is the largest African cultural exposition outside the shores of Africa and is organized by the Ghana National Council and its affiliate organizations. The festival is sponsored by the city of Chicago. The main corporate sponsors are Western union, Annakka Enterprise and Oakley Construction. This year, the procession of chiefs before they take their seats is back! Other showcases are the Ghanaian traditional harvest scene, Ghanaian chiefs, Queen-mothers, princes and princesses of the chiefs? court adorned in the most elegant Ghanaian traditional fabrics, gold ornaments and other paraphernalia. Ghanaian children will entertain the gathering with live Adowa, Borbobor, stilt dancing and procession by the children with their own King and Queen-Mother. A taste of Ghana combined with traditional drumming, a gathering of all the Ghanaian musical talents in the Chicago area! If you have never visited Ghana or Africa or been to Ghanafest before; think of what you are missing! Ever witnessed the Ghanaian Traditional Thanksgiving Celebration? Again, think of what you are missing! It is big, and we keep on making it bigger each year! Ghanaian Cultural Extravaganza! There will be cultural displays from all corners of the diverse cultures that constitute Ghana as well as the pride of Africa. Magnificent and Mouth Watering Taste of African Cuisine. Raffle prizes includes 20-inch flat screen colored TV and twenty other prizes! There will be auction of two return airline tickets from the US to Accra-Ghana! You cannot afford to miss out on this!
The phones of the organizers are buzzing with calls from all over the world, patrons, sympathizers and merry makers; they are booking hotels and motels around Washington Park in their numbers!.
Aspiring Ghanaian groups outside of Chicago and its Metropolis attending the festival should call 773-425-7318 or 773-905-8096 for an important information. Chicago, your kind of town, the windy city of the world will be buzzing and sizzling hot on July 30!
It will be great! Make July 30 a get-away to camaraderie with friends. Treat this day as a day of opportunity to mingle and exchange greetings with past school mates and friends you have not seen for a very, very long time?.