NUGS Consoles KUMACA Swine Flu victims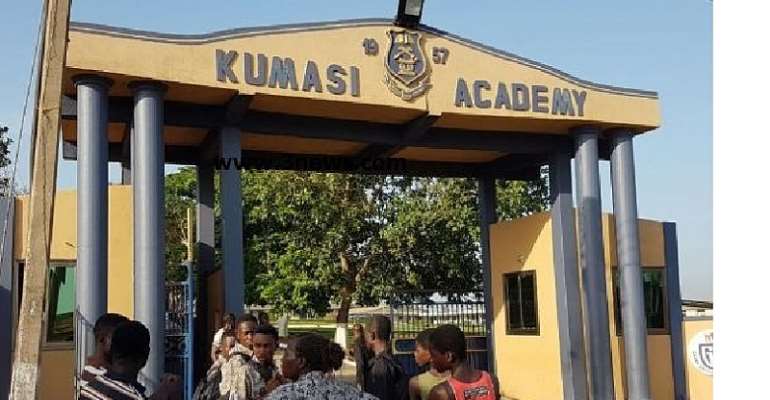 The National Union of Ghana Students (NUGS) has expressed its condolences to the parents and families of the deceased students of the Kumasi Academy who lost their lives through Swine Flu.
The Union is shocked and saddened at the report from the school over some eleven students having lost their lives with over forty others hospitalised and made to seek medical attention."
To this end, they donated 500 hands sanitizers to the students after visiting the school today.
Speaking to otec fm's Kwaku Anane Junior after the presentation, The National President of NUGS, Oheneba Elisha Essumang said "the students and their families are in our heart and mind, our condolences on the passing of the students. It's terrible to hear about the loss and we express our sincere sympathy to the students and their families, we are deeply saddened by the loss that the students and their families have encountered", he said
"our heart goes out to the families of the 4 promising students who have lost their life through the outbreak of the swine flu. May the souls of the departed students rest in perfect peace. We wish those admitted in hospitals speedy recovery," he added.
Four of the victims died subsequently, causing fear among students, school authorities and parents, some of who rushed in to the school to take their wards home.
The Health Minister, Mr Kwaku Agyemang Manu on Thursday confirmed that laboratory investigations by the Noguchi Memorial Institute into the strange deaths tested positive for the Influenza Type-A H1N1 2009 pandemic strain.
Oheneba Elisha Essumang also expressed appreciation to the health care professionals and education staff who have worked tirelessly to contain the virus and prevent further outbreak.
He promised that the 500 hands sanitizers are not enough so they will visit them a week time and made another donation to them.
The Student's Union Leader, however, debunked the claims that the National Union of Ghana Students (NUGS) says it has become necessary for Ghana Education Service (GES) and Ministry of Education to close down Kumasi Academy Senior High School (KUMACA).