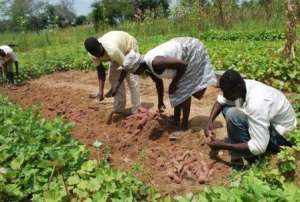 The Network for Women's Rights in Ghana (NETRIGHT) with support from the United States Agency for International Development (USAID), through Feed the Future's Agriculture Policy Support Project have held a forum to discuss women's participation in Ghana's agricultural sector.
The objectives of the forum was to increase public awareness on women's participation in the agriculture sector and shed light on the policies that encourage women empowerment and productivity.
The main policies that were discussed centered on the relaunched of the Gender Agriculture Development Strategy (GADS) II, the Land Bill and their incorporation into the Government of Ghana's agriculture policy initiatives and programs:
'Planting For Foods and Jobs, One District One Factory, One Village One Dam and the Ghana Integrated Plan for Agriculture Development (GIPAD), also known as the Agriculture Marshall Plan.'
Mrs Victoria Aniaku, a Director at the Directorate of the Women in Agriculture Development took the participants through to understand the Gender and Agriculture Development Strategy (GADS II) Policy.
She said the GADS II have nine strategic objectives namely Strengthen institutional capacity for Gender-Responsive policies, Programmes, Projects, Budgets and Monitoring & Evaluation within the sector, Enhance equitable delivery of agricultural services and Access to Inputs, Enhance access to and control over land, Information on Land Rights and Tenure Security and Develop and disseminate Gender-sensitive Appropriate Technologies along the Agriculture Value Chain including climate smart practices.
'Other strategies are to promote Gender-responsive Agri-business, Value-Addition and market access for livelihood and income, Promote Gender Sensitive Research and Extension Linkages, Promote Equal representation and participation in decision-making by Women and Men at all Levels, Harness the potentials of vulnerable farmers for Social Protection along the Agricultural Value Chain and Strengthen Gender Co-ordination among key ministries, Civil Society Organisations, the Private Sector and Development Partners.'
Dr Benjamin Armah Quaye, National Project Coordinator of the Land Administration Project (LAP II) made a presentation on the Gender provision on the approved Land Bill.
He said Gender Strategy within the context of land administration seeks to promote and secure access to land and other natural resources for women, independent of men relatives and independent of their civil status.
Dr Quaye said such a policy stance is the basis for identifying and establishing instruments that eliminate, or at least decrease gender bias with regard to natural resource tenure in Land Administration programs, including title registration, and natural resource use and management.
Ms Patricia Blankson Akakpo, NETRIGHT Programmes Manager said the forum served as a platform for 60 stakeholders from women's rights organizations, women farmer groups and other representatives from the public sector who are all crucial actors in Ghana's agriculture development.
She encouraged participants to advocate for evidence-based and gender-responsive policies in the agriculture sector to strengthen their access, control and ownership of critical agriculture resources.
In Ghana, Feed the Future works to create the enabling environment for private sector participation, increase investment in Ghana's agriculture, boost the nutritional status of vulnerable populations, and link farmers to markets opportunities.
Its aim is to increase the capacity of the Government of Ghana, the private sector and civil society organizations to implement evidence-based policies, conduct research and advocacy and perform rigorous monitoring and evaluation of agriculture programs implemented under the Medium-Term Agriculture Sector Investment Plan (METASIP).
NETRIGHT is a network of civil society organizations and individuals who have a clear interest in working together to promote women's right in Ghana through critical analysis of the gender dimensions of national processes and policies and advocate for policy change.
GNA
By Amadu Kamil Sanah/Samira Larbie, GNA