Chief spends 450 million cedis on education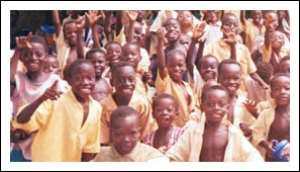 Adako-Jachie (Ash), July 9, GNA - Nana Osei Bosompem III, Chief of Adako-Jachie in the Ejisu-Juaben District of Ashanti, has financed the construction of a community library, seven-unit JSS block and a computer laboratory at the cost of 450 million cedis for the town.
This was in fulfillment of his pledge during his enstoolment in 1999 towards the development of education.
Speaking at the first Open Day of the Adako-Jachie Primary and JSS on Friday, Nana Bosompem said he has also provided an accommodation for four teachers, who threatened to leave the town due to lack of accommodation.
He said these developments were in line with his vision to raise the level of education in the area to an appreciable standard. Nana Bosompem announced plans to set up an education endowment fund, saying, he had awarded scholarship package to five brilliant but needy students in second cycle schools.
He asked parents to co-operate with teachers, so as to facilitate education development and also appealed to the government for more school blocks to ensure enough facilities for teaching and learning for the students.
Nana Bosompem later conducted newsmen round the completed projects.