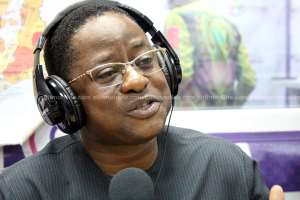 Lands and Natural Resources Minister, John Peter Amewu, has promised a massive crackdown on the sale of government lands to politicians and other private individuals.
To this end, he says the Ministry is putting a land acquisition policy in place to check the practice where state lands are sold to the aforementioned category of people.
The Ministry some two months ago constituted a committee to investigate the inappropriate sale of state lands to over four hundred individuals mainly made up of politicians.
The Committee had the task to recommend a solution that will make this trend a thing of the past.
Speaking to Citi News on the progress of the committee's work, the Lands and Natural Resource Minister, John Peter Amewu, said mistakes which saw government lands sold to politicians and some selfish individuals to the detriment of the collective good of the nation, will be addressed.
"The committee has started its job for almost a month now, and I am aware they are almost finalizing their findings for presentation to the Ministry. There are processes for allocating government land, and as a government, we are not against the concept of redevelopment which started as far back as President's Kufuor's regime, but the methodology is what we are very keen about that it should follow a laid down procedure and so areas that will be used for redevelopment for the benefit of the country, we will not have any problem. The issue is when the individual looks for more lucrative areas for selfish interest."
The Minister also outlined new policy initiatives that will make the sale of state lands very difficult.
"We have realized that the Lands Ministry has done what it could do to enable us achieve some of these registration processes, but they have not been able to fully digitize their operations. In our manifesto as a party, we did tell Ghanaians that the land administration processes are going to be established, so we are moving gradually from current manual to a more digital format."
"We think that if you streamline registration processes and government on its own, it is also able to come out with compensation payments to lands that have been acquired, then this administrative problems should be addressed completely."
–
By: Kojo Agyeman/citifmonline.com/Ghana