Justice For All Sets 51 Free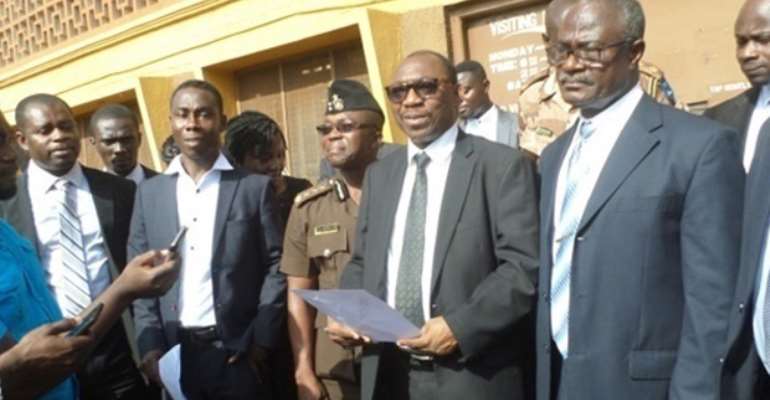 FIFTY ONE inmates from Sunyani Medium Prison including a woman, last Friday got their freedom as a result of the Justice For all Programme held at the prison yard to decongest the place.
Among them were 22 who were unconditionally set free and went home and 29 who were granted bail pending trial. Three courts presided by three Justices, Justice Clemence Honyenuga, an Appeal Court judge sitting as an additional High Court judge, Justice Patrick Banyeh- a High Court judge and Cephas Constance K Hometowu, a High Court judge sat in the prisons to dispense justice.
The proceeding which started at normal court hours ended late afternoon and described by the leader of the team, Justice Honyenuga as one of the best and fastest in the history of the programme started in 2007 to decongest the country's prisons. All the 51 beneficiaries were remand prisoners who were awaiting trial but are yet to appear before any court.
Speaking to the media after proceedings, Justice Clemence Honyenuga described the process as successful and explained that 82 remand prisoners from the Sunyani Medium Prison originally applied to be considered under the Justice For All Programme this year, but 22 were rejected because they failed to meet the criteria set up for enjoying the programme. Five others too were stroked out whilst four were referred for psychiatric examination.
According to him, the Justice for All Programme is meant to speed up trial of special cases like those who have been in prison for 6 years or more without trial. Thus two of the beneficiaries who have been on remand on the charge of murder for more than six years were unconditionally set free because it was against their human rights.
The Justice for All Programme, started in 2007 was meant to decongest the country's prisons especially of remand prisoners who have not faced trial but are being held unjustifiably due to loss of dockets, transfer of prosecutors among others. The Sunyani Prison which originally was meant to hold 430 inmates currently holds 904 prisoners; more than hundred percent of its capacity.
The Deputy Director of Prisons and the Brong Ahafo Regional commander of Ghana Prison Service, Asamoah Fenning was happy the programme was successful saying it will go a long way to reduce overcrowding in the yard.