October 13, 2017
|
Regional News
Coalition Of NGOs In Water And Sanitation Holds A Stakeholder Meeting In Tamale
Abdul-Fatawu Adam Wunizoya, Tamale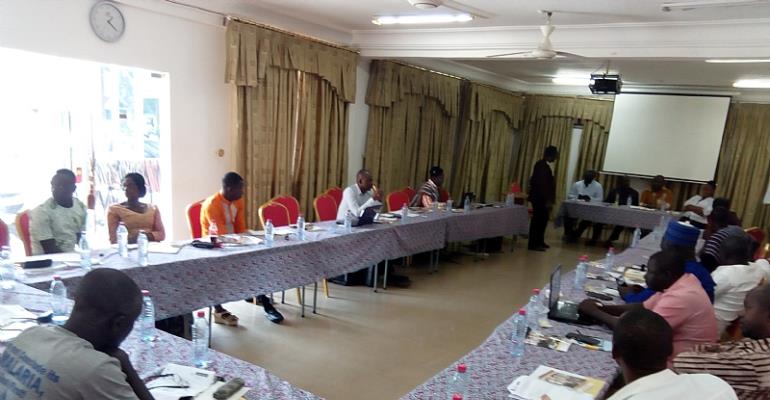 The coalition of NGOs in Water and Sanitation (CONIWAS) has met in Tamale to discuss and strategize on how to help Ghana achieve the Mellinium Development Goals (MDGs) which has become the Sustainable Development Goals (SDGs).
The round table Multi-stakeholder dialogue twas also amims to assess and revisit the the National Water and Sanitation Standards in Ghana has taken place in Tamale,the Northern regional capital.
The meetingvwas also aimed to bringing to light the many challenges facing the supply of water in the country and successes choked by Ghana so far in the SDGs, goal 6,and the way forward.
Addressing press men at the event, the vice chairman of the CONIWAS and WASH Technical coordinator at World Vision,Mr. Attah Arhin said Ghana, though doing well in water supply, more efforts were still needed to help in achieving the SDGs especially, the goal six.
The said, the Coalition Of NGOs in Water and Sanitation (CONIWAS) was networking with actors in WASH to address the many challenges facing the country.
He also said findings from the government in the WASH sector was inadequate and appealed to government to increase budget allocations to the sector so that Ghana can achieve the Sustainable Development Goal six which seeks to address hinderances in the supply of water to the citizenory.
He also called on the media, to support in the discourse of achieving the targets set by the country in the WASH sector.
On his part, the Northern regional Public Relations Officer of the Ghana Water Company Limited (GWCL), mr. Nii Abey observed that, the biggest challenge facing water supply in Ghana was finding.
According to Mr. Abey, Ghana needs about 2 billion Cedis annually to be able to overcome the obstacles in providing water to the people in the country.
He said currently, there are 88 systems producing 3 million gallons of water yearly running in 10,000 kilometer pipelines with 600,000 connection nationwide.
He also said, the Ghana water company limited serves about 12.7 million citizens with its limited resources in 45 supply regions.
He revealed that, Ghana has achieved a 76 percentage coverage of water to the citizens with the hope to cover the remaining 24.
The meeting was organized by the Coalition Of NGOs In Water And Sanitation (CONIWAS) with findings from the UNDP under it's WASH philanthropists platform and dream people from the government, Civil Society Organizations (CSOs), the Private sector, Media and the general public.