Ghanaian In Canada To Sue Kwame Appiah Stadium For Denigrating President Nana Akufo-Addo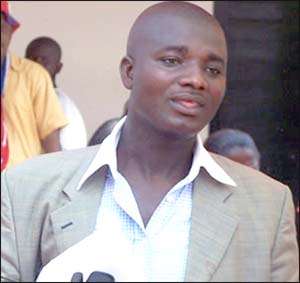 One Mr Kwame Appiah Stadium, an infamous NDC activist cum communicator has gone miles beyond his usual denigrating propaganda directed at weakening, if not portraying, NPP and her members, as evils unfit to govern Ghana.
From a personalised audio-recorded message he has put out on WhatsApp and other social networks, he has attacked beyond reparation the person and the integrity of His Excellency President Nana Addo Dankwa Akufo-Addo.
I, Rockson Adofo, have been forwarded the message onto my WhatsApp when shared by an unknown person. I find the content very defamatory. The message has the potential to do irreparable damage to the person and integrity of President Nana Akufo-Addo.
One may not be bothered much about the insults he rained on the President, although as irresponsible and untruthful as the insults are. Nonetheless, one will find it unpardonable and criminal his accusation of the President being a heavy "wee", weed, ganja, marijuana or whatever you may call it, smoker.
From the rate his deplorably lies-filled voice-recorded message has been trending on the social media, one Mr Boateng in Toronto (Canada) has made it clear to me that he will sue Kwame Appiah Stadium despite His Excellency President Nana Addo Dankwa Akufo-Addo accepting his plea for pardon following the national condemnation of his disrespectfulness, malicious character assassination and the security agents' resolve to invite him (Kwame Appiah Stadium) for questioning.
Mr Boateng says it is about time line was drawn between stupid perpetuations of propaganda and the telling of truth. Subsequently, he has vowed to administer the very bitter concoction that Kwame Appiah Stadium prepared for the President, to him, Kwame Appiah Stadium.
He will sue him on the grounds of suffering emotional stress, mockery and rejection by his children. He had previously testified to his children, some of his friends and work colleagues about the incorruptibility, admirable integrity, and dedication to be of service to his people and nation and dynamism of the President.
However, following the peddling of falsehoods about him as aforementioned, his children born in Canada but who he has been trying to take to Ghana for visits and future resettlement, have decided not to go to Ghana anymore or anytime soon because of the adverse effect that Kwame Appiah Stadium's message has had on them. They claim not to believe Mr Boateng's claims about the President anymore.
Some of his friends and work colleagues are teasing him. They are asserting that how can a President be said to be credible if he smokes "wee" which is a banned drug in Ghana? In Ghana people are arrested when caught selling or smoking "wee". Why should a President engage in that illegal habit, they claim? What example is he setting for the youth and the people of the country to follow hence mocking Mr Boateng?
The above stated points are among the reasons why Mr Boateng is planning to institute a civil suit against Mr Kwame Appiah Stadium.
He goes on to condemn Ghanaian leaders who are fond of pleading for others when they are caught in breach of the laws. For how long will Ghanaians behave in a way that militates against the effective implementation and enforcement of the laws?
Ghana is not retrogressing or stagnating for nothing. It is all these corrupt practices and our needless infatuation with intervening to set free those who breach the laws as it is in the case of Kwame Appiah Stadium that Ghana is marking time in her emancipatory aspirations.
Mr Boateng told me over the phone that though he does not accuse the President of error of judgment, in future, he should not just by himself accept pleas for pardon when people falsely defame him. He says the President represents Ghanaians and he is serving Ghanaians. The President has supporters being a servant of Ghana so anything that affects him does not affect only him but has extensive repercussions on his entire supporters and all discerning Ghanaians. Therefore, he would advise that in future the President should refer such cases to his lawyers to deal with it or appoint a panel to evaluate the merits and demerits of the case against any pleas for clemency made to him by erring persons.
Mr Boateng is not a sobersides but he is disgusted at the habit of Ghanaians soiling the reputation of others all for nonsensical political or selfish gains. He wants to see the malicious or uncouth attitude of the Ghanaian changed forever hence his determination to sue that notorious NDC communicator.
Finally, he is seeking a lawyer in Ghana who will charge him a reasonable fee to take Kwame Appiah Stadium on. That will prove to his children, work colleagues and friends that Kwame Appiah Stadium maligned the President for the sake of being mischievous or dealing him a political blow with intent to pave a way for the NDC comeback in year 2020 but not that the President is actually a "wee" smoker.
Any lawyer interested in taking Mr Boateng's case should please let him know via Rockson Adofo on Facebook.
To falsely accuse someone of involvement in acts of criminality is a prosecutable offence dealt with by civil suit/law. Sorry to say some ignorant people take it too lightly to the allegation of "wee" smoking levelled against the President. In the international arena, and in the eyes of the world public, do these ignorant people know the damage it can cause to the President and his nation?