14 September 2017
|
General News
CDD Partner COPIO To Fight Discrimination Among Citizens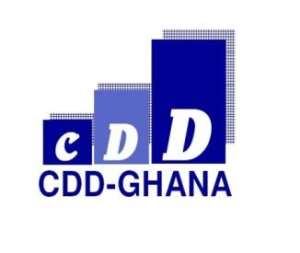 The Centre for Democratic Development (CDD) is calling for responsiveness and accountability projects and programs through stakeholder engagement to help reduce discrimination and inequalities among citizens and the social systems.
According to CDD, research conducted by their outfit reveals that discrimination and inequalities among the citizens and the social system is high.
Mr. Paul Osei Kufour, a representative of CDD revealed this at stakeholders' meeting organized by CDD and its local partner organization, Center of Posterity Interest Organization (COPIO) at Tuobodom in the Techiman North District.
He said socially, the CDD holds social accountability in higher esteem, promote responsible and good governance, hence intensifying citizen engagement in local governance system through radio programs, town hall meeting and durbars.
According to Mr. Kufour, CDD|OSIWA and its local partner are in the district not to impose anything on the Assembly but to complement the efforts of the Assembly, adding that the project is currently running in 20 districts across the country.
He said, the beneficiary districts were selected based on the baseline survey and data generated across the country which showed the districts that were lagging behind in terms of development, and the project started in 2015.
"We are here to help the citizens get more insight in the Assembly concept, our main focus would be planning and budgeting and other related areas". He reiterated, adding CDD and its local partner are in the district to strengthen and operationalize the District Assembly concept.
Mr. Kuffour disclosed to the participants that CDD at that stage would withdraw since it has done the necessary baseline survey and input so it is now the responsibility of the local CSO (COPIO) and the Assembly to take the mantle to sustain the project for the time been.
He urged the implementers to take good use of local authorities in the mobilization process to ensure total and active participation of citizens in the project. This would strengthen and sustain social accountability and good governance at the various levels of the Assembly.
Mr. Mustapha Yeboah, the Executive Director of COPIO expressed gratitude to the DCE, Peter Mensah as well as the departmental heads for hosting the delegation from CDD, COPIO, CSO's and the Media assuring the Assembly and members present that COPIO would collaborate with the Assembly and its citizens so to make the project sustainable and successful.
The District Chief Executive Honorable Peter Mensah also took the opportunity to thank CDD|OSIWA for taking such an action in the District and reiterated the Assembly commitment in making the project a successful one.